If you're like me, I end up cooking chicken about twice as much as any other meat each week! Since September is National Chicken Month, I've joined forces with some talented bloggers to share our chicken recipes with you. Here are 12 simple, delicious recipe ideas to help you fix quick and easy chicken dinners for your family.
Easy chicken recipes are a great way to eat healthy and deliciously, without much fuss. This easy chicken recipes roundup is here to help you celebrate National Chicken Month!
Cider Glazed Chicken Breasts take just 20 minutes and 4 ingredients making them the perfect weeknight meal. They're cooked in one pan making clean-up a breeze!
Warm Spiced Roast Chicken Over Sweet Potatoes from Whole Food | Real Families.
Warm-Spiced Roast Chicken over Sweet Potatoes is the ultimate savory but simple dish. Warmly spiced, flavorful and everything cooks on one baking sheet! A perfect weeknight meal that is elegant enough to serve to any guest.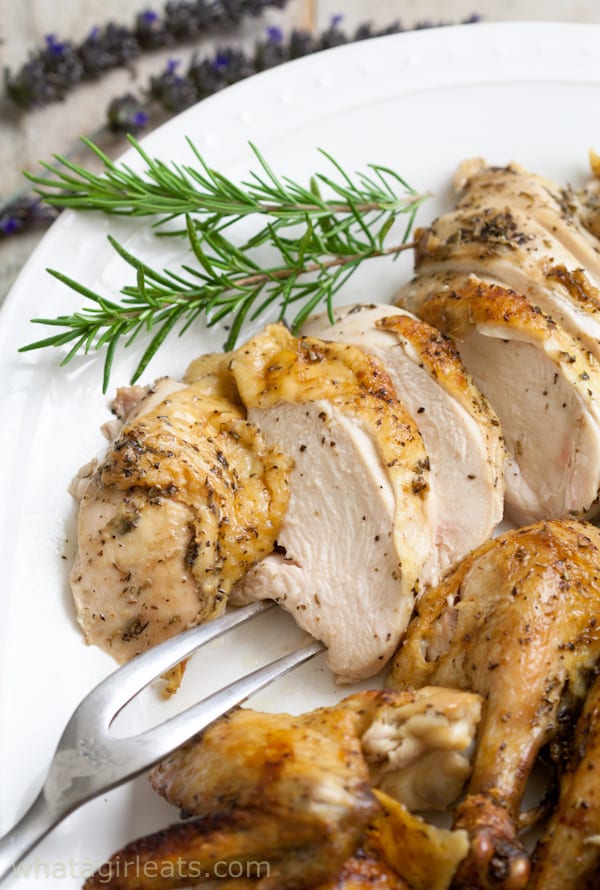 This country French Chicken dish is roasted with lemon and Provencal herbs for a flavorful and easy meal.
Chicken Breasts in Pancetta Cream with Peas from Renee's Kitchen Adventures
Chicken Breasts in Pancetta Cream with Peas is a keeper. Crispy pancetta, creamy sauce and green peas all come together turning plain old chicken breasts into something special.
Easy Chicken Paprikash from It's Yummi
This Hungarian comfort food has been lightened up and made healthier with help from boneless, skinless chicken breasts and whole grain rice.
Grilled Thai Chicken from That Skinny Chick Can Bake
This Grilled Thai Chicken with an Asian flair starts with an outstanding marinade of coconut milk, lime juice, garlic, fish sauce and cilantro and makes a magnificent, unforgettable entree!
One Pan Lemon Chicken & Rice from The Chef Next Door
This Lemon Chicken & Rice is a simple and delicious one pan dinner! It comes together quickly so there's more family time at the table, less time in the kitchen.
Lime Chicken Chili from Delightful E Made
An easy, healthy, delicious dinner that's done in under 30 minutes! Made with chicken, beans and peppers along with fresh lime juice and cilantro, this chili is fantastic, and perfect for warming up after a cold day.
Skillet Pesto Chicken from Amee's Savory Dish
This versatile, one pan chicken dish was featured in the March 2016 edition of Relish Magazine and ready in 30 minutes or less!
Limoncello and Herb Barbecue Chicken Thighs from Creative Culinary
Tangy and slightly sweet with Limoncello, this barbecue chicken dish is perfect with herbs from the garden. Marinate the night before and cook them on the grill for a dinner that is easy with results that are delicious.
Chicken Cordon Bleu Casserole from Rose Bakes
This is an easy, delicious chicken recipe that brings all the delicious flavor and textures of Chicken Cordon Bleu without all the work!
Gluten Free Fried Chicken from Fearless Dining
This recipe is from the owner of the famous Proposition Chicken in San Francisco. It is time to rejoice that you CAN enjoy delicious, crispy gluten free fried chicken!!
What are your favorite easy chicken recipes for National Chicken Month?! Leave them in the comments!