Pasta al Vongole is an Italian pasta dish, made with tender sauteed clams and a flavorful white wine sauce. It is quick and easy to prepare, making it perfect for a weeknight dinner.
It was the summer of '69. We were on our way back from visiting family in Chicago. We stopped somewhere in South Dakota. Probably near Mt. Rushmore or some other tourist trap. A cabinet full of curios. My brother, Billy and I could choose one object from the case. All were "rock animals". Billy chose quickly, the most perfectly formed, perfectly polished, smoothest and most beautiful "rock dog". I was torn, because I wanted the perfect dog, but he got it.
I looked more carefully, spending a long time. I'm sure my parents wanted to leave. I searched and I found the ugliest, most imperfect rock dog. He was chosen because I was sure no one else would ever choose him, and I wanted him to be loved. To have a home, and someone to love him, in spite of his imperfections. I still have him. He sits on the sill of my kitchen window, right next to my brother.

I need to remind myself of this lately…what the 9 year old in me intuitively knew, that imperfections are beautiful. I make mistakes. Nearly every day. It's just food.
My best-worst mistake was Pasta Al Vongole, or Clam Spaghetti.
It was one of my dad's favorite dishes. I saw my mom make it dozens of times. Canned clams and pasta. That was it. The first meal I ever made for Spencer was Pasta Al Vongole.
A lot of time had passed. I thought I remembered how to make it. I'd been to cooking school. How hard could it be? I over-thought. Big mistake. Bechamel, add clams…this equals wallpaper paste. I was nearly in tears, wanting to impress the guy I knew I would marry. (Although, he didn't know it yet). I don't remember what I made after that, or if we struggled through the meal. But he proposed to me anyway, 7 months later. I think people are mostly willing to over-look imperfections, as long as they know that there is love behind them.
We didn't call it by any fancy Italian name when I was a kid. It was just called "clam spaghetti".
You can call it Pasta al Vongole, if you want to.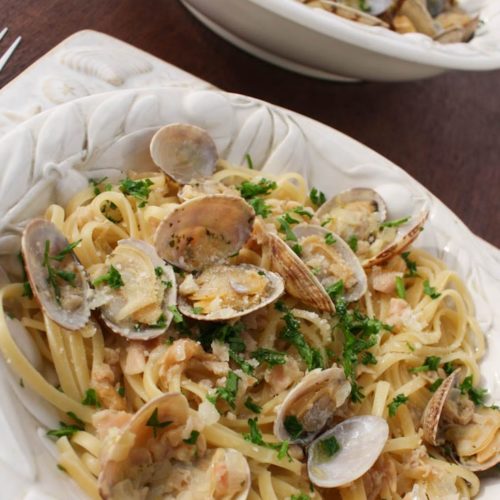 Pasta Al Vongole
While clams in the shell are ideal, you can also substitute shelled clams from the seafood section of your grocery store or canned clams. If using canned clams, use 2 6 ounce cans.
Ingredients
2

shallots

minced

2-3

cloves

of garlic

minced

1

cup

dry white wine

2

cans canned clams

with juice

1

pound

fresh clams in shells

you can sometimes find steamer clams frozen in the grocery store

2

Tablespoons

olive oil

2

Tablespoons

unsalted butter

1

pound

linguine

fresh chopped parsley

Freshly grated Parmesan or Reggiano
Instructions
Saute shallots in olive oil and butter...(maybe a tablespoon or two of each. I like to be generous with the butter!)

Add minced garlic and saute another minute or two until fragrant, but not browned.

Add canned clams, wine and fresh clams and cover for a few minutes to steam the clams. 5 minutes or so or until clams open. Discard any un-opened clams.

Toss with pasta, fresh parsley and cheese.
So if you are wondering if my kids will eat this…Yes! They love it. Sophie, 11, said, "Clam spaghetti! My favorite!" But then, she says that when I make pesto, Macaroni and Cheese, and carbonara, so it could just be pasta that she's crazy about.