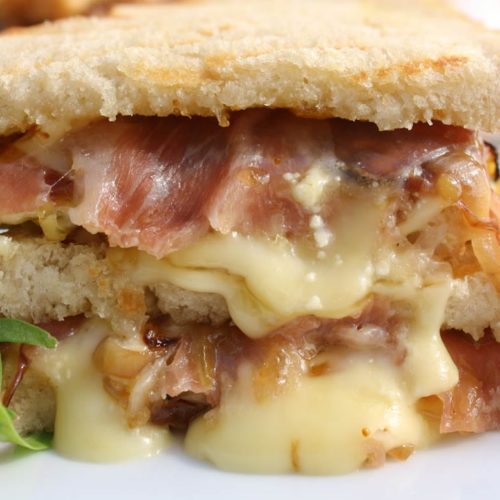 Print Recipe
Brie and Proscuitto Panini Sandwich
Panini sandwiches, made with brie cheese, caramelized onions, prosciutto, and fig jam.
Firm bread like sourdough or a crusty Italian pane.

Brie

I decided to splurge a bit more and go for a French brie, which was a little runnier and richer looking than the firmer California brie.

Fig jam. If you can't find this locally

their are many places on line that sell it including E.Waldo Ward's.

Proscuitto

Carmelized onions
To assemble the panini, brush top and bottoms of bread with olive oil. The outer sides of the panini need to be oiled to get a nice golden outside.

Spread a layer of fig jam on one inner side of bread.

Spread a layer of brie on one inner side.

Add a layer of proscuitto.(omit proscuitto for the vegetarian version)

Top with carmelized onions and remaining slice of bread.

Grill under a panini press. If you don't have a panini grill, grill it in a skillet, pressing down with a smaller skillet or spatula. After all, a panini is just a fancy Italian word for "grilled cheese sandwich".