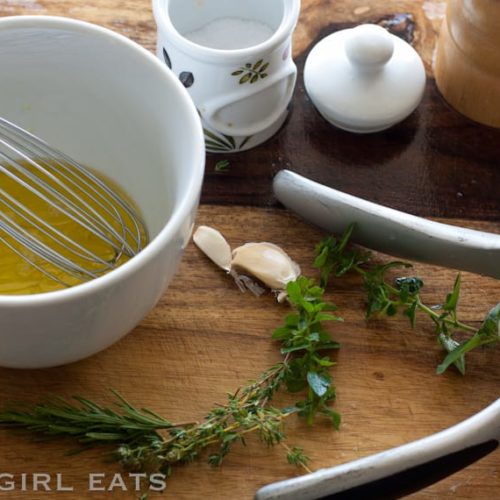 Print Recipe
Lemon-Garlic Marinade
Lemon, garlic,olive oil and fresh herb marinade.
Olive oil 1/4 to 1/2 c. depending on how much meat you're marinating

Juice of a lemon

1

or 2 cloves garlic

crushed (more if you're not planning on kissing anyone),

1-2

Tablespoons

finely chopped oregano

thyme and rosemary, preferably fresh, but if you're using fresh, remember with rosemary, a little goes a long way!)

Kosher salt and black pepper
Whisk it all together. Taste and adjust seasoning. It should be flavorful like salad dressing.

Marinate chicken 20 minutes to several hours. Shrimp marinates for up to 1/2 hour. Beef, lamb and pork can be marinated overnight.

Timesaving tip: pour marinade into a zip-lock bag with meat. Freeze. While meat defrosts overnight, it will also soak up the marinade and be ready to cook.

Bake, broil or BBQ meat as desired.