This Pear and Gorgonzola Salad with Candied Pecans is an autumn staple! Especially for entertaining.
This is one of my go-to entertaining salads. It's so easy to prep in advance, which means all you have to do is arrange the pears over a bed of field greens, and top with crumbled cheese and candied pecans. This Pear and Gorgonzola Salad is a variation of one that's been served in a very popular local restaurant here in Pasadena for years. (This post was originally published on August 3, 2012, and may contain affiliate links for your convenience)
As with most recipes when you'll be focusing on very simple ingredients, go for the highest quality you can afford. While pears, pecans and field greens aren't particularly expensive, you'll want use a really nice vinegar.
(This is a good time to open that designer bottle of vinegar or oil that you were given last Christmas and never could figure out what to make with it). My mom usually buys me really interesting oils and vinegars
The latest was, D'Anjou Pear White Balsamic Vinegar, from her local farmer's market.
"You've got to blog something with this!" she told me many times, "It's delicious!" "I can't ma!" I kept telling her. "How can I write about a product that can't be found outside Southern California?"
But that's when it occurred to me. It's not about that balsamic. It's about using the ones you've been saving for a special occasion. As long as you know the basic principles of a vinaigrette, you can use your favorite vinegar or olive oil.
I know I've said this before, but a real, homemade vinaigrette takes only minutes to whip up and tastes infinitely better than a store bought dressing. But why wait for a special occasion? You really have everything you need to make it tonight…light a candle, use the china, drink some wine.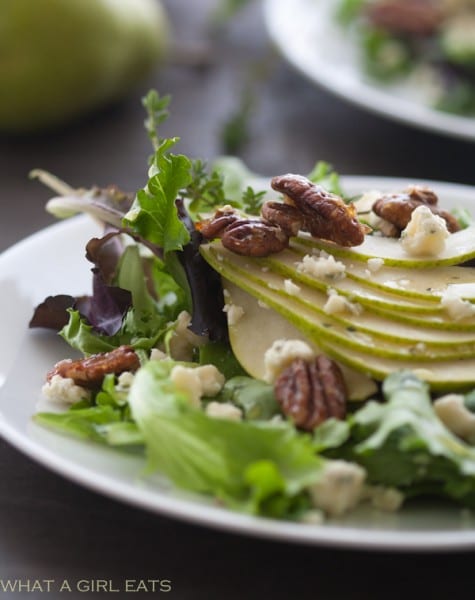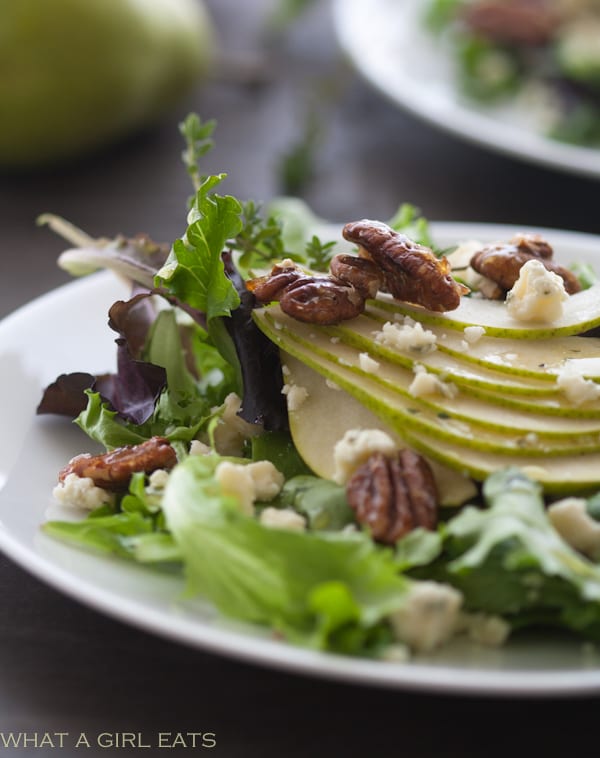 It doesn't matter so much if you use arugula, field greens or romaine, walnuts or pecans, blue cheese or feta, pears, apples or nectarines…experiment, create, discover.
But I hope you'll enjoy this Pear and Gorgonzola Salad!
Some of the items used in this post are available on my Amazon Store.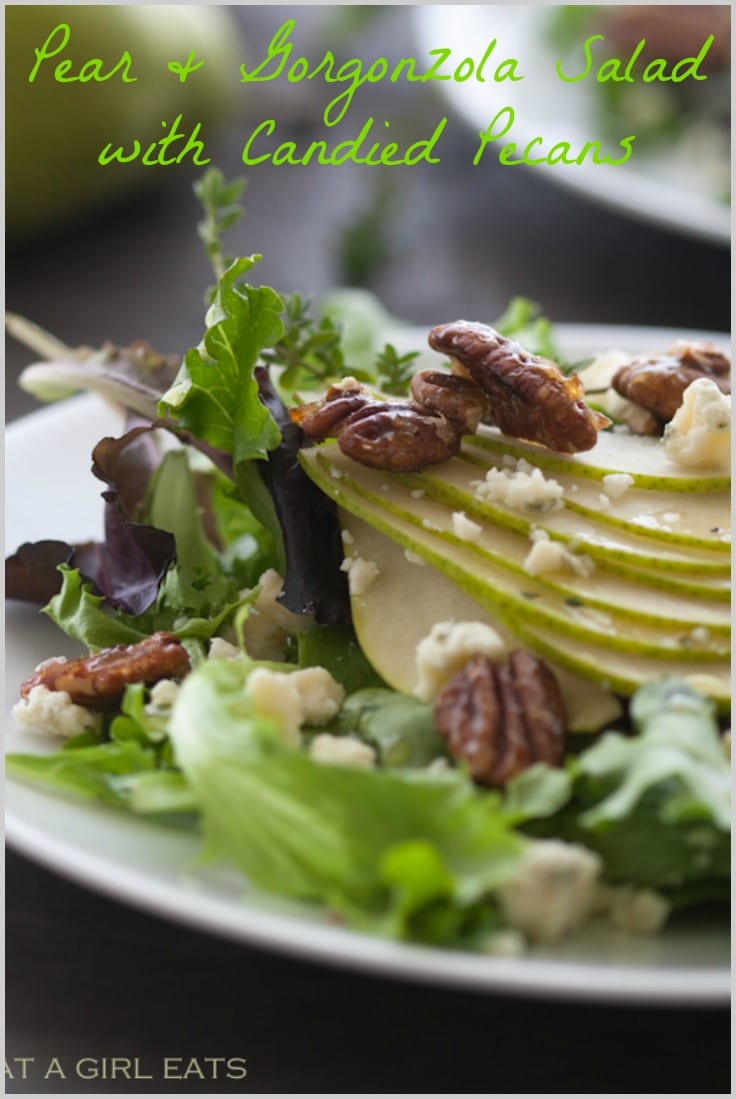 Pear And Gorgonzola Salad with Candied Pecans
Pear and gorgonzola salad with candied pecans. (For the dressing I made, the pear vinegar, was a bit sweet, so I omitted the sugar went for a 2 parts oil to 1 part vinegar. Taste...taste...taste! Citrus will cut the sweetness and make the flavors pop. I skipped the garlic, since I didn't want the flavors of the salad to be overwhelmed by the garlic.
Ingredients
Basic Vinaigrette

A basic vinaigrette is 3 parts oil to 1 part acid

(vinegar, citrus)

a bit of something sweet

(sugar, honey, maple syrup or agave)

a bit of mustard

garlic and herbs

a pop of citrus if you haven't already added some

For my dressing

6

Tablespoons

olive oil

3

Tablespoons

white balsamic vinegar

1/4

teaspoon

Dijon mustard

1

teaspoon

fresh chopped thyme

pinch

of salt and pepper to taste

1/4

teaspoon

sugar or honey

Squeeze of citrus

(I used 2 teaspoons fresh lime juice)

1/2

cup

pecans,

1 1/2

Tablespoon

sugar

pinch

cayenne,

(optional)
Instructions
Whisk all ingredients together and season to taste with salt and pepper.

I used a combination of arugula and field greens. 1/2 pear, sliced and a few tablespoons Gorgonzola for each salad. Top with candied pecans. Drizzle with dressing just before serving.

For Candied Pecans: Heat the sugar and pecans over a medium heat until sugar begins to melt.

Shake pan and stir pecans so that they are lightly coated with sugar, add pinch of cayenne if desired. When sugar begins to turn caramel colored.

Turn off heat and dump nuts on a cookie sheet to cool. Break up nuts when cool.