Spicy Confetti Shrimp is bound to turn any meal into a party!
I was at a Mardi Gras fundraiser last week. It was one of those "Taste of…" events, where restaurants showcase small samples of  their best dishes. I saw this beautiful shrimp, just one shrimp per small plate, as it was just a "taste", and my first thought was that chef had thrown confetti on each dish for the party. Upon closer look, (and taste) I discovered that it was actually finely diced bell peppers, chiffonade of basil, and purple cabbage.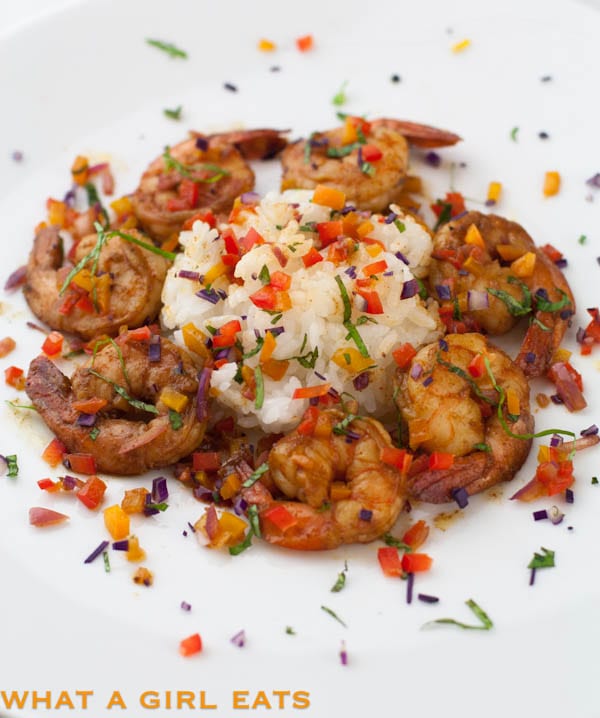 All I could think about is how great it would look and taste on a big plate. After chatting with the chef for a bit, he graciously gave me the basic ingredients -"butter, lots of butter, Worcestershire sauce, and garlic". There was a nice kick at the finish, which made me start thinking about what I would call it when I tried to re-create it, Confetti Shrimp, Celebration Shrimp, Diablo Shrimp?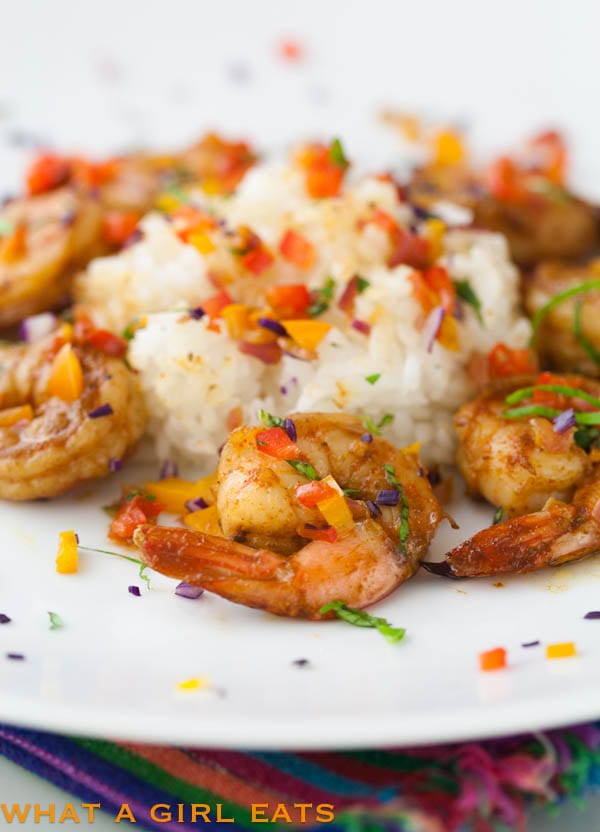 I came close to  calling it Diablo Shrimp, because the Devil is in the Details with the dish. You can get the same flavors with a larger dice, but if you want it to look like an explosion of confetti on the plate, you need to cut the veggies fairly small…almost to a mince. I serve it with rice and extra confetti on the rice.
If you use pre-shelled and deveined shrimp, the whole confetti shrimp dish can be ready in under a 1/2 hour.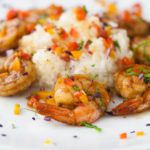 Confetti Shrimp
Ingredients
1

pound

large shrimp

cleaned, deveined and peeled

1/2

teaspoon

cayenne pepper

or more

2

teaspoons

smoked paprika

4

cloves

garlic

minced

2

teaspoons

Old Bay

6

Tablespoons

unsalted butter

2

Tablespoons

Worcestershire sauce

1 1/2

cups

finely diced peppers

red, yellow, orange (I don't like green so I omitted them)

1/4

cup

finely shredded purple cabbage

1/4

cup

finely chopped purple onion

Handful of basil leaves

cut chiffonade
Instructions
Toss shrimp with cayenne, smoked paprika, garlic and Old Bay seasoning in a bowl. Let sit while you mince the veggies.

Heat butter over medium high heat and sauté the shrimp, 2 or 3 minute per side or until opaque and cooked through. Add Worcestershire sauce, stirring to coat shrimp.

Remove the shrimp from a pan with a slotted spoon. Add veggies and sauté another 2-3 minutes.

Sprinkle "confetti" and basil over shrimp and rice.
Serve the confetti shrimp for dinner, and these desserts afterward: