This low carb Chile Rellenos Casserole has all the flavor of regular chile rellenos, but without the breading and frying.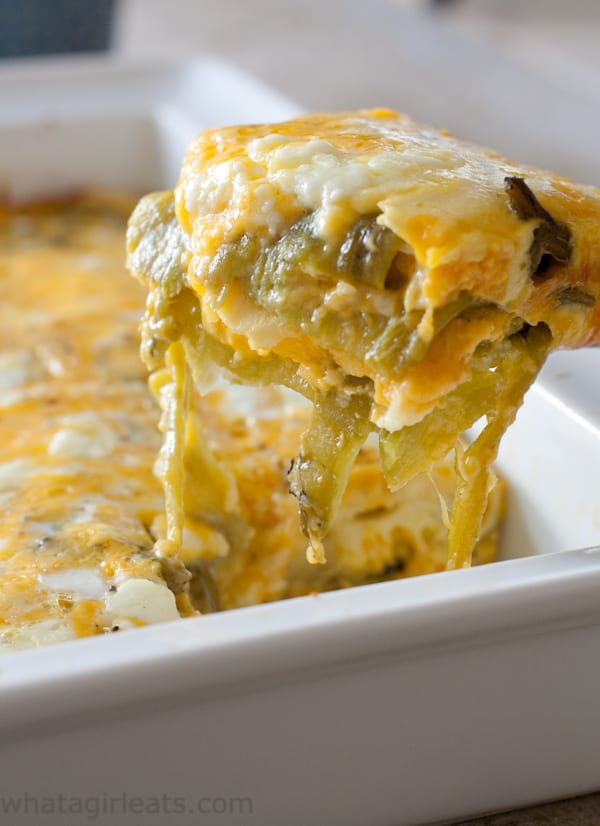 Once a year, my girlfriend Jelayne has a Chile Rellenos party. Her family is from New Mexico, and her uncle sends a large care package of assorted Hatch chiles. Jelayne and her husband, Dan, spend the afternoon charring, filling, battering and then deep-frying dozens of chiles.
The thing is, she never called them "Hatch chiles", they were just chiles to her. Because to New Mexicans, Hatch chiles are the only chiles!
(This post was originally posted on July 17th, 2013, I've updated the photos and the recipe. Affiliate links help offset the cost of providing free recipes, at no additional cost to you.)
Many years later the Hatch chile craze came to Southern California, with roasting events popping up all over the city, and I finally figured that we'd been eating Hatch Chile Rellenos for years, but just didn't know it.
Now, it's hard not to miss the word "Hatch" in August and September! There are roasting events all over the country now! If you can't find a chile roasting event near you, you can roast them yourself.
How to roast chilies
Don't worry if you don't have access to Hatch chiles, you can always use poblanos, pasillas, or Anaheim chiles. There are a couple of ways to roast them. First, you can throw them on the grill, no need to do anything to them. Just rotate them until the skin is charred and blackened.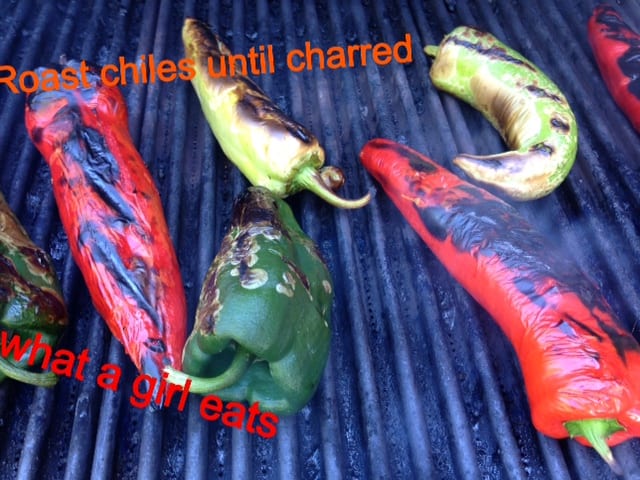 You can also roast them over an open flame, or under the broiler. Then pop them in a brown paper sack and close. Let them sit and steam in the bag for a few minutes, or until cool enough to handle.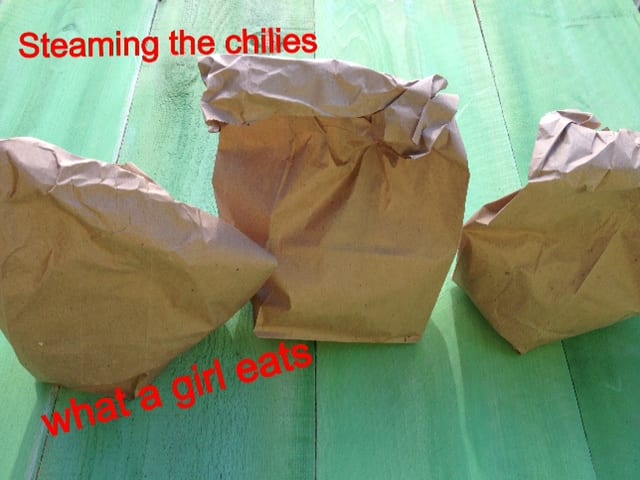 If you don't use plastic gloves to remove the skins and seeds, be mindful of your hands and don't touch your face or eyes.
The skins should peel of very easily. Scrape the seeds out and remove the stem end. I usually give them a quick rinse and pat them dry with paper towel to get the last bits of skin, seeds and char off.
If you are lucky enough to pick up pre-roasted Hatch chiles, you might want to buy a case. (I did just that last weekend when I bought 10 pounds of roasted chiles from my local grocery store).
What do you do with TEN pounds of Hatch chiles?
Well, I've make Hatch Chile and Cheddar Egg Bites, which make a nice grab and go, breakfast that's low-carb and gluten free. Or this Hatch Chile Bacon Grilled Cheese Sandwich, which is definitely not low-carb! (Spencer gets to eat that!) Or we'll just dice them up and pop them in omelets or scrambled eggs.
How to Freeze Chiles
If you do buy more chiles than you can possibly use in a week, you'll want to freeze them.
First pat them dry or lay them flat on some paper towels to absorb some of the moisture. DO NOT PEEL them, the skins will help keep them moist. Freeze them flat in plastic bags and then stack the bags. Once they're defrosted, the skin should easily slip off.
This low carb Hatch Chile Casserole doesn't involve any stuffing, breading, or frying, so most of the work is in prepping the fresh chilies. Once you've got them skinned and cleaned, it takes just a few minutes to pull the casserole together.
We'll have this for breakfast, lunch or even as a side dish to go with dinner. Since it's vegetarian, it also makes a great entree. Did I mention that it works well with a Keto diet too?
Step 1:
Roast, skin and rinse chiles. Pat dry on a paper towel.
Step 2:
Lightly grease a baking dish with olive oil. Line chiles on the bottom of baking dish.
Step 3:
Layer 1/3 of the cotija and sharp cheddar over chiles.
Step 4:
Add another layer of chiles.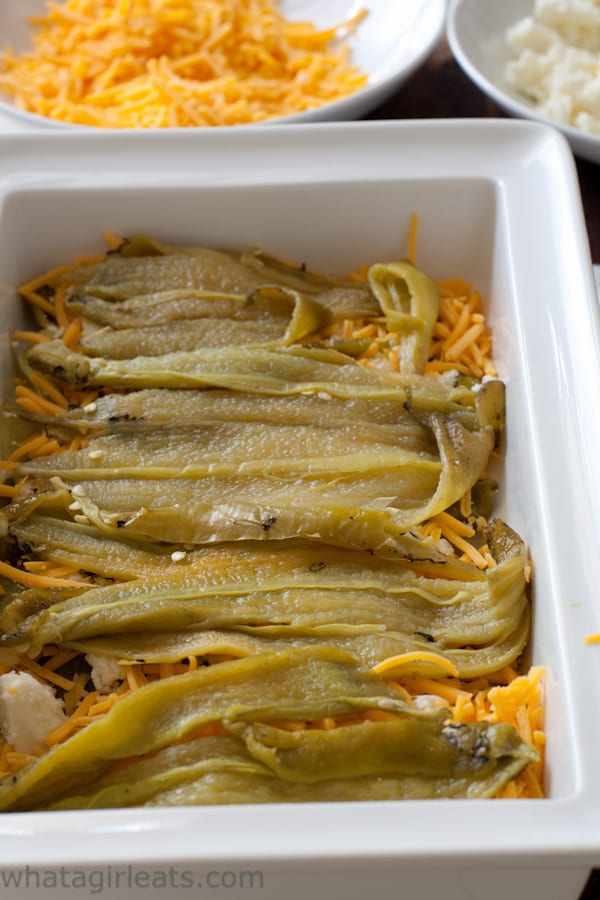 Step 5:
Repeat, ending with a layer of both cotija and cheddar cheeses on top layer. Beat eggs, salt and pepper in a bowl and pour over chiles and cheese.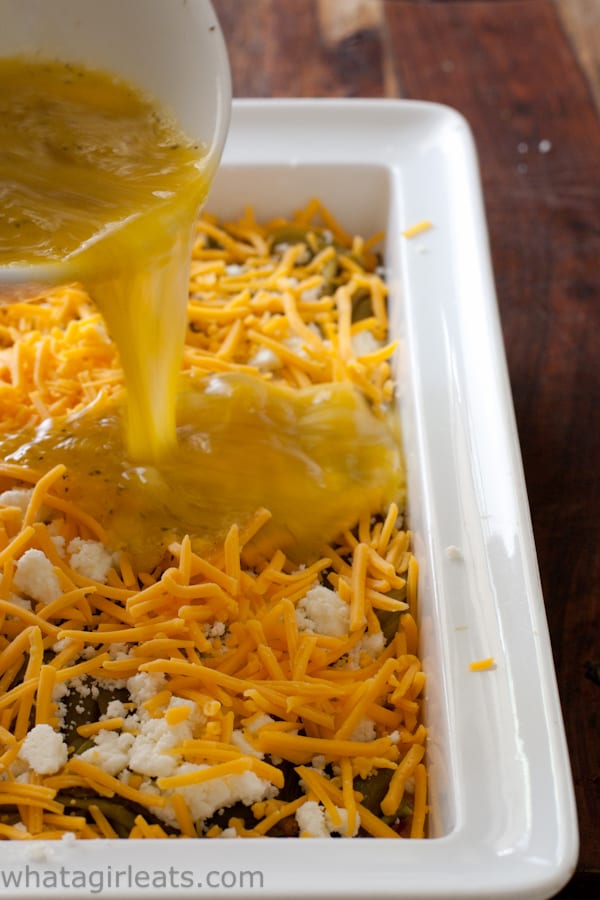 Bake at 425 degrees for 40 minutes, or until cheese is hot and bubbly.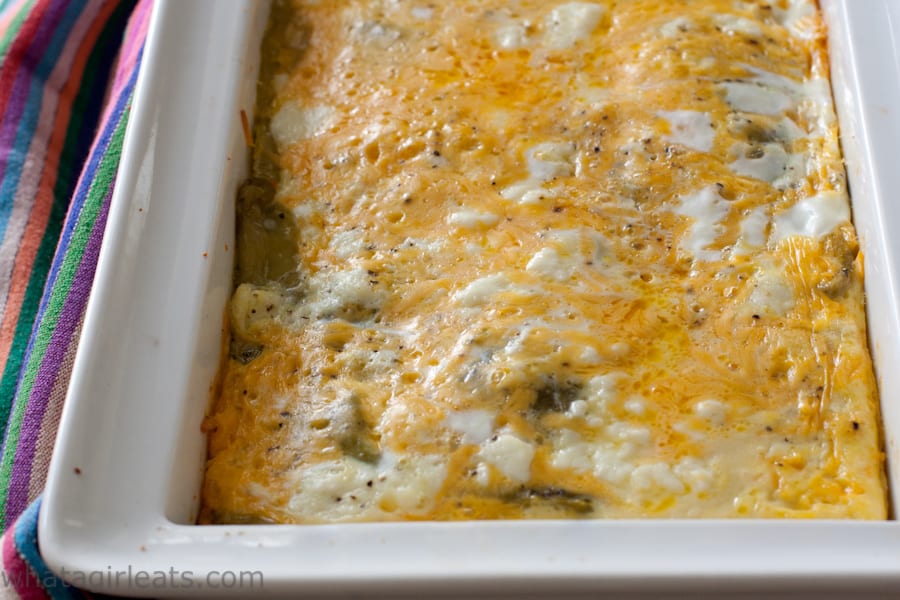 How to freeze this Chile Rellenos Casserole?
Yes! I usually freeze this casserole in squares after I've baked it. Wrap pieces well in plastic or foil and then seal in a
Some of the items used in this post are available at my Amazon store.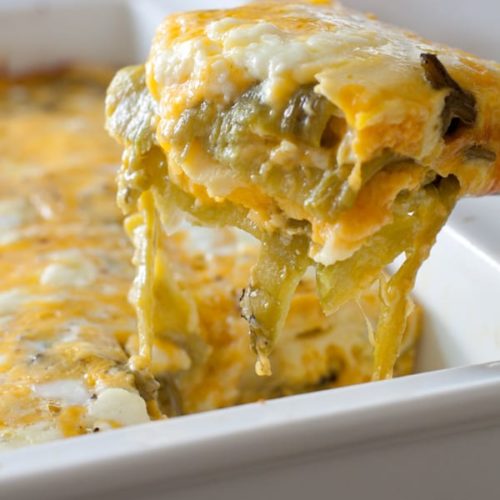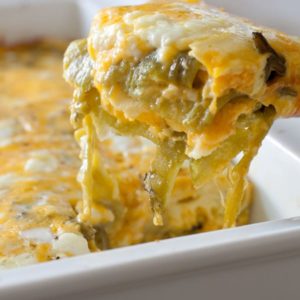 Low Carb Hatch Chile Rellenos Casserole
Chiles are layered with two kinds of cheese and baked. This recipes serves 6-8 depending on whether you're serving it as a main dish, side dish or breakfast casserole.
Ingredients
1 1/2

pounds

chiles,

Hatch, poblanos, pasilla, or Anaheim chiles, charred, skins and seeds removed.

6

ounces

queso fresco or cotija cheese,

you can also substitute ricotta cheese for a similar texture and flavor.

12

ounces

sharp cheddar cheese,

grated

4

large

eggs,

beaten

1

teaspoon

kosher salt

1/2

teaspoon

black pepper

2

Tablespoons

olive oil
Instructions
Roast chiles under the broiler or on a charcoal grill, turning often, until the skin is blackened. Place them in a paper bag and close tightly. When chiles are cool enough to handle, pull away and discard the seed and inside veins.

Preheat oven to 425 degrees F.

Brush olive oil on the bottom of a 10.5" x 7.5" baking dish. Line with chiles.

Cover chiles with about 2 ounces of crumbled cotija and 4 ounces of shredded cheddar. Repeat, ending with cheeses on top.

In a bowl, beat 4 eggs, salt and pepper. Pour mixture over chiles and cheese. Cover with foil. Bake at 425 degrees F. for 40 minutes, or until cheese is hot and bubbly. Remove from oven and let rest 5-10 minutes to set.

Casserole can be frozen. Cut into squares and wrap well.
Nutrition
Serving:
1
g
Calories:
303
kcal
Carbohydrates:
7
g
Protein:
16
g
Fat:
23
g
Saturated Fat:
12
g
Cholesterol:
160
mg
Sodium:
896
mg
Potassium:
103
mg
Fiber:
2
g
Sugar:
3
g
Vitamin A:
675
IU
Vitamin C:
10.2
mg
Calcium:
366
mg
Iron:
0.9
mg