Pad Thai is a simple but flavorful Asian entree. It can be made with a variety of proteins, but this easy shrimp Pad Thai may very well become your new favorite weeknight dinner recipe! (originally published on June 18th, 2011. I've updated it to be gluten free!)
One of the stops on our honeymoon was Thailand. We landed in Bangkok, spent a few days there and then headed up to Kanchanaburi.(this post contains affiliate links for your convenience)
Even though you may never have heard of Kanchanaburi, you'd know it at once, if I whistled the theme song from "Bridge on the River Kwai" which was filmed there and where the Allied POWs built the bridge for the Burma Railway. Both Spencer and I love history and we wanted to visit the bridge, the Thailand-Burma Railway Museum and War Cemetery. Of the 60,000 Allied POWs who worked on the railway, 16,000 died, mostly British, Australian and Dutch. Only 356 were Americans.
We also visited the ruins of a Buddhist "wat" nearby in Ayutthaya. We stopped there for some of the best Pad Thai we've ever had. Part of a memorable meal isn't just the food, it's the whole experience. This Pad Thai comes together pretty quickly.
The key to most Asian foods is "mise en place". Mise en Place is French for, "get all your stuff together"! This takes a few minutes longer than prepping as you go, but once you start stir frying, you need to add ingredients fast! Having everything ready to go means you can add quickly and don't need to worry about overcooking.
Here's the shrimp Pad Thai recipe. Enjoy!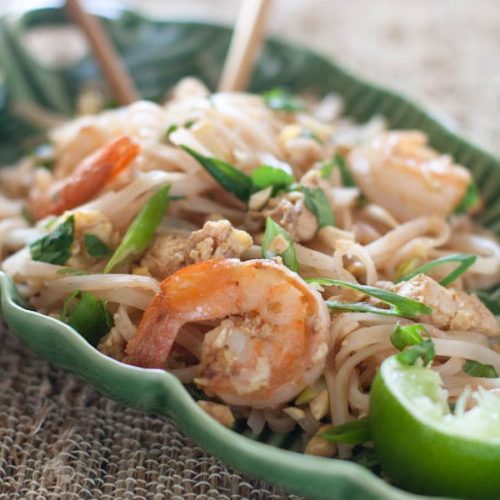 Easy Shrimp Pad Thai
Ingredients
8

ounces

wide rice stick noodles

1/4

cup

ketchup

1

Tablespoon

sugar,

(or coconut sugar)

3

Tablespoon

Thai fish sauce

1/2

tsp.

crushed red pepper

2

Tablespoons

coconut oil

divided

3/4

lb.

medium shrimp

peeled and deveined

1/2

lb.

diced boneless chicken

2

large eggs

lightly beaten

1

cup

fresh beans sprouts

(extra for garnish)

3/4

cup

sliced green onions

extra for garnish

1

teaspoon

minced garlic

2

Tablespoon

chopped unsalted

dry-roasted peanuts

Chopped cilantro for garnish
Instructions
Place noodles in a large bowl. Add hot water to cover; let stand 15 minutes or until tender. Drain.

Combine ketchup, sugar, fish sauce and pepper in a small bowl.

Heat 2 teaspoons oil in a large non-stick skillet or wok over medium-high heat. Add shrimp, saute 2 minutes or until shrimp are done. Remove shrimp and set aside.

Do the same with the chicken pieces until they are done, set aside.

Heat 4 teaspoons oil in pan over medium-high heat. Add eggs, cook 30 seconds or until soft-scrambled, stirring constantly. Add sprouts, green onions and garlic, cook 1 minute. Add noodles and ketchup mixture,chicken and shrimp and cook 3 or 4 minutes or until heated and noodles are tender. Serve with chopped peanuts, chopped cilantro and lime wedges.
Nutrition
Some of the items used in this post are available here for your convenience.

Looking for more Asian dishes?
Better than Panda Express Orange Flavored Chicken