Chinese lettuce wraps are a quick, easy, and healthy weeknight dinner. Ground turkey is stir fried with fresh Asian vegetables and served in lettuce leaves with sweet hoisin sauce.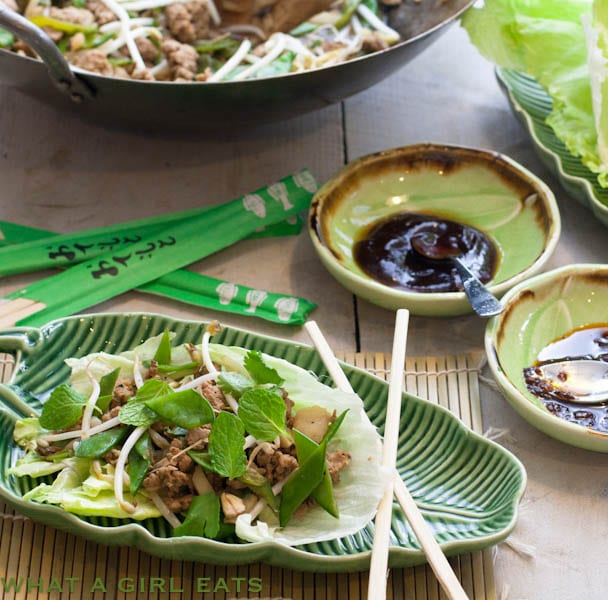 I love to travel virtually around the world with a pound of ground meat. Whether it's Mexican tacos, Indian Curry, Middle Eastern Burgers, or these Chinese Lettuce Wraps, having a few basic staples on hand makes global cooking easy.
To serve Chinese lettuce wraps, just set up the fillings as you would a taco bar, with lettuce, extra bean sprouts, cilantro, mint, hoisin sauce and chili oil.
Then, everyone makes their own wraps to suit their taste.
Hoisin sauce is usually served with mu shu pancakes, so it's sweeter and definitely kid friendly, but it is not gluten free. Serve rice on the side and you've got a complete meal. Adding lots of vegetables to the meat means I can stretch a 20 ounce package to feed the four of us, for dinner with enough leftovers for a couple of lunches the following day.
The most time consuming part of making stir fry is the prep work. Measuring out everything in advance is crucial, since the actual cooking takes just minutes.
I have lots of ramekins and small glass dishes that I use just for mise en place (prep). Because I keep a lot of spices and condiments in my pantry, they need to be organized so I can quickly access them. I alphabetize my spices and keep all the condiments grouped together by region , so I can quickly grab anything I need.
Most of these spices can be found in a regular grocery store, but I usually travel to a local Asian store where the "second" language is English. If I don't know what something is, I ask questions. The produce is cheap, the fish is fresh, and the variety of noodles is amazing! But that's another post.
I hope you enjoy the Chinese lettuce wraps! Here's the recipe:
Chinese Lettuce Wraps
Ingredients
1 20

ounce

package ground turkey

1 8

oz.

can of water chestnuts

coarsely chopped

4

green onions

cut on the diagonal

2

cups

snow peas

cut on the diagonal

1

cup

chopped mushrooms

2

cups

bean sprouts

2

teaspoons

honey

divided

4

Tablespoons

reduced sodium soy sauce

for gluten free use tamari, divided

3

Tablespoons

seasoned rice vinegar

divided

2

Tablespoons

minced garlic

2

Tablespoons

finely grated peeled fresh ginger root

1

Tablespoons

Worcestershire sauce

1/2

cup

chicken broth

1 1/2

Tbl. sugar

2

teaspoons

cornstarch

1

Tablespoon

vegetable oil

divided

1

teaspoons

sesame oil
Instructions
In a bowl with your hands, mix turkey, honey, 1 Tablespoon each, soy sauce, and vinegar, garlic and ginger root until just combined. Marinate turkey mixture 15 minutes.

In a small bowl whisk together Worcestershire sauce, chicken broth, sugar, cornstarch, remaining 3 Tablespoons soy sauce and remaining 2 Tablespoons vinegar.

In a wok or large non-stick skillet, heat vegetable over moderately high heat until hot, but not smoking, and saute turkey mixture, stirring and breaking up lumps, until just cooked through, about 3-4 minutes. With a slotted spoon, transfer turkey mixture to clean bowl. Reheat wok over medium hight heat, add one Tablespoon oil and stir fry mushrooms, water chestnuts and snow peas, about 1-2 minutes. Return ground meat to wok and add sauce mixture, stirring until sauce is thickened and snow peas are tender, about 2-3 minutes. Remove wok or skillet from heat and stir in sesame oil.

Serve with mint and cilantro leaves in lettuce cups.

Serves 4-6 as a main course
Stir fry the ground meat quickly over a medium high heat. Stir to break up lumps. When it's almost cooked, about 4-6 minutes, remove with a slotted spoon to another bowl.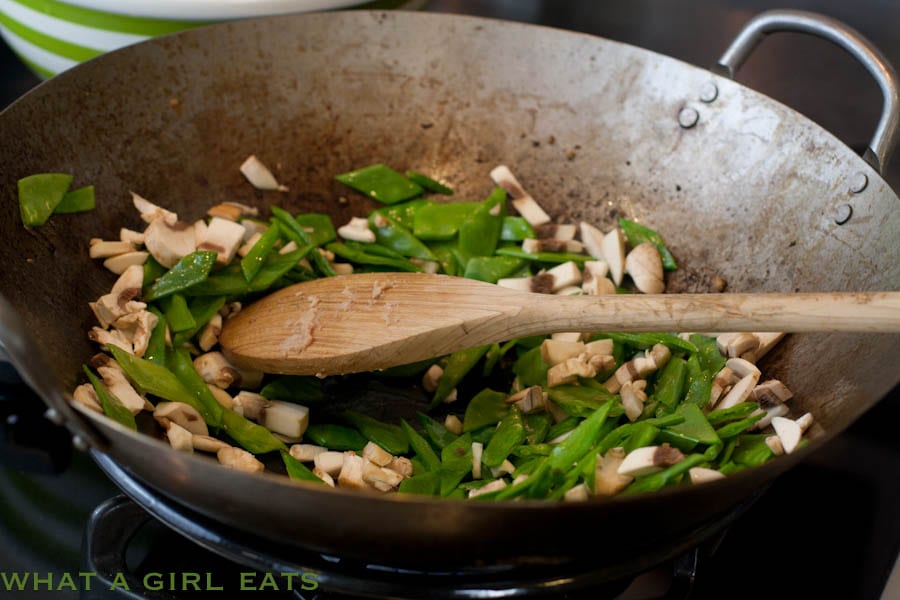 Wipe out the wok. Add 1 Tablespoon oil and reheat pan over a medium high heat. Stir fry the mushrooms and snow peas, about 1  or 2 minutes.
Add the bean sprouts, stir fry just another minute more.
If you enjoy the Chinese lettuce wraps and want to make more Asian dishes, try these:
Better than Panda Express Orange Flavored Chicken