Singapore Hot Pot, sometimes called a Steamboat, is a method of cooking fresh, raw ingredients in a simmering soup base. Similar to cooking in a fondue pot, each diner chooses and cooks the ingredients of their choice right in the pot.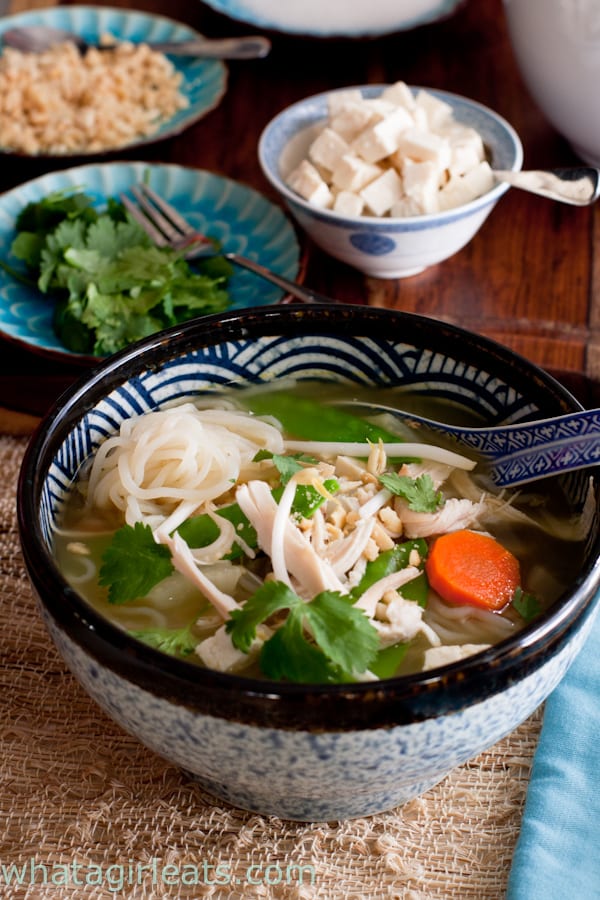 I don't know about you, but right after the holidays, my whole family is ready to simplify eating. Even Spencer needs a break from the heavy, multi-course meals and party food that we can't seem to avoid during November and December. Enter the Singapore Hot Pot. Even when there aren't parties to go to, there are cookies and candy to make, and foodie gifts that arrive in the mail or are delivered by thoughtful neighbors. "I'll have just one", turns into sampling more than my fair share of calorie-dense food.
While I don't believe in counting calories, a few times a year I just need to give my body a break to get back into the cycle of healthy eating. Soups are a great way to feel full without extra calories. In Singapore, there is a market in the center of town that is filled with food stalls, where you can get a Hot Pot or Steamboat. The vendor brings the plain broth in a "hot pot" accompanied by a large platter filled with whatever meats and vegetables you've chosen.
You cook your own meal at a little outdoor table in the square, by adding the ingredients to the bubbling broth.
I developed this Singapore Hot Pot recipe based on the Pots in Singapore and Malaysia.
This is a nice soup for "divided" households, where one or more family members are vegetarian. Serve the chicken, shrimp or beef separately, and you won't have to cook twice for your vegetarian! This is also a fantastic soup to serve to someone who is feeling a bit under the weather. Add more garlic, ginger, and chili oil to help clear up stuffy sinuses!
Though the broth starts out very plain, the magic comes with the condiments. Put out small bowls of ingredients like Asian chili oil, sugar, Thai fish sauce, soy sauce, chopped peanuts or cashews, and fresh cilantro. With condiments, the simple bowl of broth becomes a hot, sour, salty, spicy or sweet soup, depending on how you jazz up your own bowl.
There are no "rules" when it comes to the base soup. Start with vegetable or chicken broth, add sliced onions, thinly sliced carrots, fresh ginger and lots of minced garlic. Just a few minutes before serving, add snow peas, cubed tofu and bean sprouts. I used to add udon or glass noodles, but since discovering shirataki noodles, I add those to the broth for a gluten free, low-carb alternative. Shirataki noodles are made from white yams, and they have a similar texture to glass noodles. I purchase them from the produce section of my local grocery store.
Here's the recipe for my Singapore Hot Pot. Enjoy!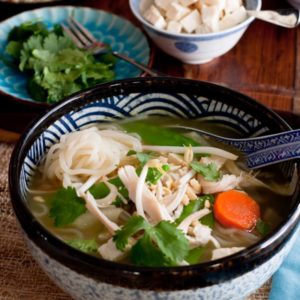 Singapore Hot Pot
A simple vegetable or chicken broth can be turned into a flavorful soup with the addition of your favorite vegetables or protein. If serving to multiple tastes, have cooked, thinly sliced beef, chicken or shrimp in small bowls so that each person can add their own.
Ingredients
2

quarts

vegetable or chicken broth

zest and juice of one lemon or lime

2-3

cloves

of minced or sliced garlic

or more if desired

1

Tablespoon

freshly grated ginger

or more

2

Tablespoons

Asian sesame oil

Add any vegetables you choose

such as:

Thinly sliced onions

carrots, celery, mushrooms,

Then add:

Chopped baby bok choy or spinach

snow peas, sliced green onions and bean sprouts.

Serve small bowls of:

Diced tofu

cooked shredded chicken, thinly sliced beef, cooked shrimp, cooked shirataki, glass or other Asian noodles, chopped peanuts or cashews, sliced green onions, chopped cilantro, Asian chili oil, soy sauce, and Thai fish sauce.
Instructions
Bring broth to a boil in a large sauce pan. Season broth with juice and zest of lemon or lime, fresh ginger and minced or sliced onions. Then add vegetables from firm to soft, starting with onions, carrots, celery and mushrooms. Simmer gently until vegetables are tender, about 10 minutes.

If serving protein separately, (beef, chicken, shrimp or tofu) place in separate bowls. If not, feel free to add to the soup.

minutes before serving add sliced snow peas, green onions and bean sprouts.

Serve soup in large bowls with condiments so that each person can season to his or her liking.