Apricot-ginger glazed chicken is a flavorful chicken dinner that uses just 3 ingredients and less than 30 minutes to make. If you need a quick, last minute dinner recipe, this Apricot-Ginger Glazed Chicken is for you!
Apricot-Ginger Glazed Chicken is one of those last minute dishes I created on a busy weeknight. Mondays always seem to be the most hectic. It seems that I'm always scrambling a bit for a last-minute dinner idea.
We eat a lot of chicken. A LOT of chicken! Any twist on the same old grilled or baked chicken is always well received. I keep a jar of apricot preserves in my fridge at all times. I actually never put it on toast, it's merely for cooking and baking purposes. Seriously. Apricot jam is the "secret" ingredient in most baked goods, and it's what gives pies and pastries that lovely sheen. I also love the combination of apricot and chicken, like this Apricot Almond Chicken Salad.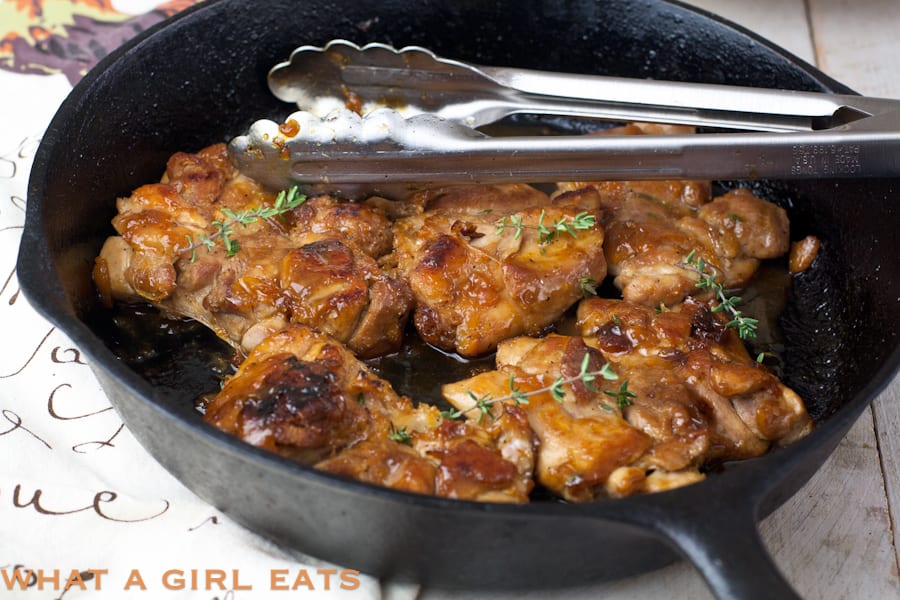 There was always a large pot of apricot "glaze" in the pastry kitchen at cooking school and we used it liberally! But apricot jam is also a great in savory dishes and I use it on my pork loin, in Coronation Chicken Salad, and in this chicken dish.
This simple apricot-ginger glazed chicken recipe is fast, uses just 3 ingredients, (besides the chicken) and makes a quick weeknight meal in under 30 minutes.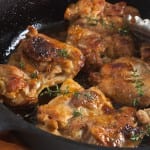 Simple Apricot-Ginger Glazed Chicken
Ingredients
1 1/2

pounds

boneless skinless chicken thighs or breasts

about 4-6 pieces

1/4

cup

apricot jam

1/4

cup

water

1/4

teaspoon

minced fresh ginger

1

Tablespoon

apple cider vinegar

1

Tablespoon

olive oil

Kosher salt and pepper
Instructions
Season both sides chicken with salt and pepper. In a heavy skillet or cast iron pan, heat oil over medium heat.

Cook chicken, 3-4 minutes on each side, depending on thickness, or until nearly done.

Mix jam, water, ginger and vinegar in a small bowl until blended.

Remove chicken from pan and place on a plate.

Add apricot mixture to pan, scraping to loosen any browned bits. Place chicken back in pan, turning to coat both sides of each piece, and continue cooking until sauce is thickened, the consistency of a glaze and chicken is cooked through.
After you make this chicken dinner recipe, I'd love to see photos of it! You can share them with me on my Facebook page.