Apricot almond chicken salad is a creamy, all white meat chicken salad with sweet apricots, crunchy almonds, and tangy fresh tarragon. You're going to love it!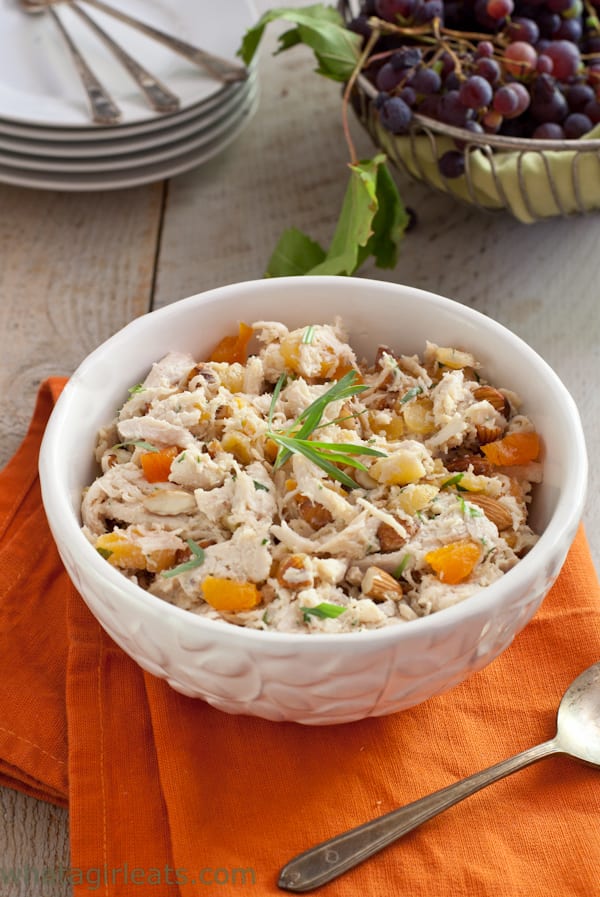 Here are five important things that I've learned:

1. When you find something you're passionate about, it's all you can think about.
2. Doing something you love is easy and fun.
3. Starting something new at 50 is exciting.
4. Finding your passion is something you have to figure out all by yourself, no one can find it for you.
5. Sometimes your passion was always there, but you were just running so fast, you didn't realize it was right beside you the whole time, trying to keep up with you, waiting for you to slow down.
I've learned these things and more about myself in the 6 weeks since I started writing this blog.
Which brings me to my passion for chicken salad.
I decided to make 2 kinds of chicken salad yesterday. Since I was going to 'blog' them, I had to write down quantities and really focus on the process of cooking.
At one point during the process, it seemed as though I was moving in slow motion (a good thing for me). I was focusing on my chopping, watching my own hand move, and feeling very peaceful and calm. I felt very present and in the "moment". Was I meditating?
I don't know, but I realized that I really love to cook. It transports me, it relaxes me, and it calms me down. Well, most of the time anyway.
OK, this was a pretty heavy post. Maybe I should have named it "Passion Chicken Salad". Then again, it's better to call it what it is. If you like chicken salad, you might like Cranberry Walnut Chicken Salad or Coronation Chicken Salad.
Apricot almond chicken salad with tarragon.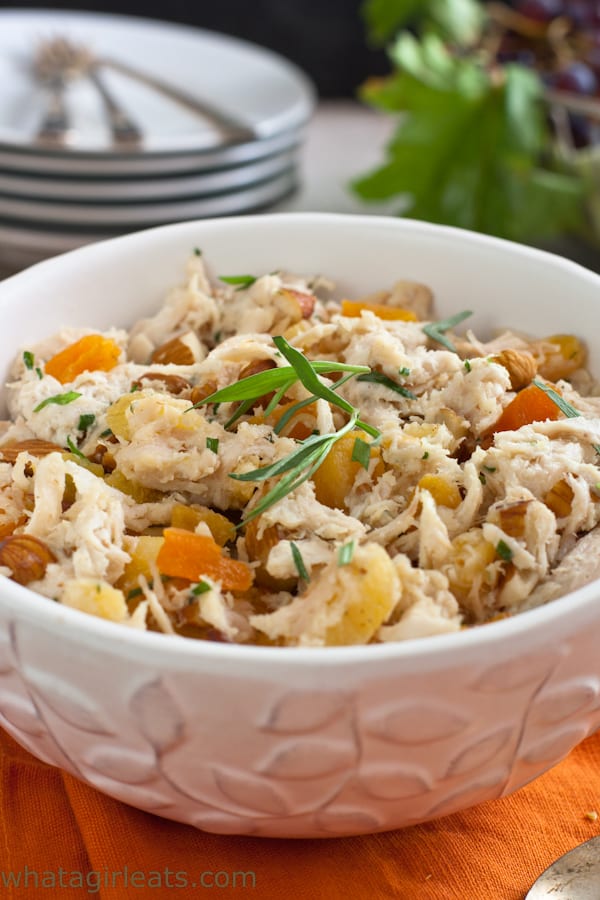 Apricot Almond Chicken Salad
Creamy chicken salad with sweet apricots, crunchy almonds, and tangy fresh tarragon
Ingredients
3

cups

of diced

cooked white meat chicken

1/2

cup

mayonnaise

2/3

chopped

dried apricots

1/2

cup

chopped almonds

1 to 2

tablespoons

fresh tarragon

chopped

1

tsp.

Coleman's dried mustard
Instructions
Salt and pepper to taste ( like to use a little white pepper, it has a more subtle flavor)

Mix everything together and chill. Adjust seasonings.