Five spice turkey with sticky rice is an Asian inspired Thanksgiving meal that your family will love!
Thanksgiving is probably my favorite holiday, I think because it's the least commercial, if you don't count the occasional giant, blow-up lawn turkey.
There are no gifts to exchange and minimal decorating. It's also one of the few secular holidays that we celebrate together as Americans.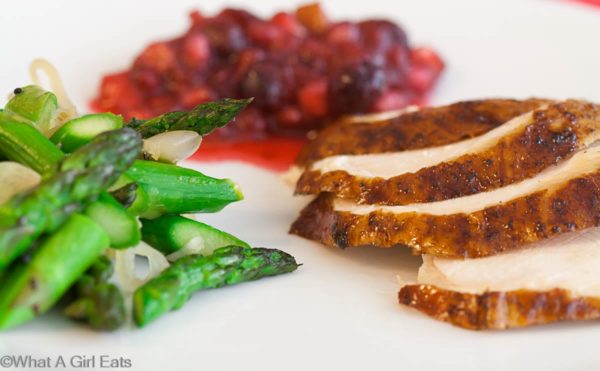 I've been thinking about doing a Chinese inspired Thanksgiving for several years. I started an English Conversation class for Chinese speakers at my church about 5 years ago. That's when I met and recruited, coerced Angela, who speaks fluent Cantonese, to help me. Angela was born in Hong Kong, raised in London but has lived in the US since she was 18. Her parents owned Chinese restaurants in both London and LA.
The first Thanksgiving of the class, the women were particularly interested in how to cook turkey, and what to serve with it. Most had never roasted a bird before. I'd never really thought about how others celebrated Thanksgiving.
I guess I just assumed that the whole country ate pretty much the same thing…Turkey, stuffing, potatoes, cranberry sauce and a vegetable of some sort. I asked Angela, who's been an American citizen for nearly 30 years, what she served on Thanksgiving. Instead of traditional bread stuffing, Angela makes her mother's Sticky Rice with Chinese Sausage and Mushrooms.
A couple of days ago Angela showed up with a jar of  her husband, Andy's, homemade Chili oil for me and a box of char sui bao, for Sophie's birthday. We once again discussed our Thanksgiving menus.
I shared my idea to make an Asian inspired Thanksgiving with her Sticky Rice and a Five Spice Turkey.
I just happened to have the freebie turkey ready to cook the next day. So Angela rattled off her mom's Sticky Rice recipe, adjusting the amounts in her head. Because she's been making it so long, there isn't a recipe. The only difference is that Angela makes it for her huge extended family so she uses 24 cups of sweet rice and 4 lbs. of Chinese sausage! I wanted to make a slightly smaller amount.
The next day Angela gave me a little care package of all the ingredients I would need. Most major cities have Asian grocery stores where all these products can easily be found. I needed a cranberry sauce that would go with my Five Spice Turkey, so I pretty much gathered what I had lying around, a pomegranate, a couple of ripe pears and some ginger. Just a few minutes on the stove for Cranberries with Ginger, Pomegranate and Pears.  Any kind of stir-fry veggies would be fine. Asparagus with Garlic and Shallots was my choice.
I start cooking my turkey breast side down, allowing the thigh juices to run to the breast. I find it keeps it much moister.
What do you think of this five spice turkey recipe??
Five Spice Turkey
Ingredients
Marinade

1/2

cup

soy sauce

1/3

cup

peanut or vegetable oil

3

cloves

garlic

crushed

1 1/2

Tablespoon

Five Spice Powder you can find this in a regular grocery store.

2

teaspoons

fresh grated ginger

1/4

cup

Chinese cooking wine

can be found in Asian markets, Cost Plus and some grocery stores

1 1/2

Tablespoons

sesame oil

Juice of one orange

2

Tablespoons

brown sugar
Instructions
Whisk all ingredients together and pour over bird. (This was enough for a 12 pound bird) Marinate several hours or overnight, turning occasionally.

Pre-heat oven to 350*F. Roast bird breast side down for one hour, then flip bird and continue roasting, basting occasionally, until internal temperature is 180*. Skin should be a deep brown color. Here's a link to Butterball's Roasting guide. (I actually pull it a bit before 180*) Let rest so the juices will run through the meat.
Your five spice turkey needs this cranberry side dish!
Cranberries with Ginger, Pomegranate and Pears
Ingredients
1

bag of fresh cranberries

1

pomegranate

seeded (you can buy pomegranate seeds in the produce section of your grocery store, if you don't feel like seeding it.

2

small ripe pears

diced

2/3

cup

of sugar

3/4

cup

water or pomegranate juice

2

teaspoons

fresh or powdered ginger
Instructions
Place cranberries, pomegranate seeds, water or juice, sugar and juice into a saucepan.

Cook over a medium low heat until cranberries begin to pop and sugar is dissolved. Stir in diced pears. Adjust flavor with more ginger or sugar if necessary. Chill.
Don't forget the sticky rice to go with your five spice turkey!
Chinese Sticky Rice with Chinese Sausage
Makes a lot of rice...enough for 8-12
Ingredients
3

cups

sweet rice

2

links Chinese sausage

sliced thin ( I like Chinese sausage so much, I sometimes buy it and eat it like a Slim Jim)

1

small

about 2 ounces piece of Chinese bacon, diced

5 -6

dried black mushrooms

3

tablespoons

dried shrimp

optional

2

Tablespoons

dark soy sauce

2

Tablespoons

light soy sauce

1

Tablespoons

sugar

2

cups

of water

2

green onions or scallions

sliced fine
Instructions
Prepare the rice according to directions, either using a rice cooker or on the stove top.

While the rice is cooking, soak the mushrooms in very hot or boiling water for about 15-20 minutes until they are soft. Remove the tough center stem and dice.

Soak the shrimp the same way, set aside.

Saute the mushrooms, sausage and bacon over medium heat for 3 to 4 minutes, add soy sauces, water and sugar, reduce heat, cover and simmer for about 15 minutes. There should be about 1/2 to 3/4 cups of liquid left.

Toss the mushroom mixture and dried shrimp over the rice, adding the broth a little at a time, stirring well. You may not need to add all the broth, taste and decide. Garnish with sliced green onions.
Because a side vegetable dish is required eating with the five spice turkey…
Stir-Fry Asparagus with Shallots and Garlic
Ingredients
For each bunch of asparagus

I used:

2

shallots

sliced thin

3

cloves

of garlic

sliced thin

2

tablespoons

vegetable or peanut oil

2

teaspoons

sesame oil

Black or white sesame seeds for garnish

(optional)

Salt and pepper to taste
Instructions
Remove tough bottom stems and cut asparagus into 1" pieces.

Over high heat, quickly stir fry asparagus, for a minute or two, then add garlic and shallots, continue stir-frying another couple of minutes until asparagus is crisp-tender.

Season with salt and pepper, and sesame seeds if using.