I don't know about you, but Buffalo Hot Chicken Wings are a "must-have" in our house during football season!
Growing up, I was a tom boy. I preferred playing football with the boys on the cul-de-sac to Barbies. My dad taught me how to throw a spiral and was so proud when I joined the girl's football team in junior high as a running back. I loved spending weekends watching football with him and eating "football" food.
Spencer works hard during the week, so on Saturdays when the college games don't conflict with soccer, I enjoy making "boy food" and supplying beer for him and any friends who drop by. Both girls love football days too and the three of them usually root for one team, while I am alone in rooting for the underdog, (or any team playing against USC!).
Boy food is usually all the food I would never dream of serving for dinner, but somehow doesn't seem as bad in front of the TV. Buffalo Hot Chicken Wings are so easy, it almost doesn't seem fair to give you a recipe for them. Of course you can't forget the snacking stuff, tortilla chips, salsa and guacamole. Dessert is usually brownies or cookies, though now that I'm blogging, there will be more variety. Rest assured, there is no place for  Lavender shortbread at a football game!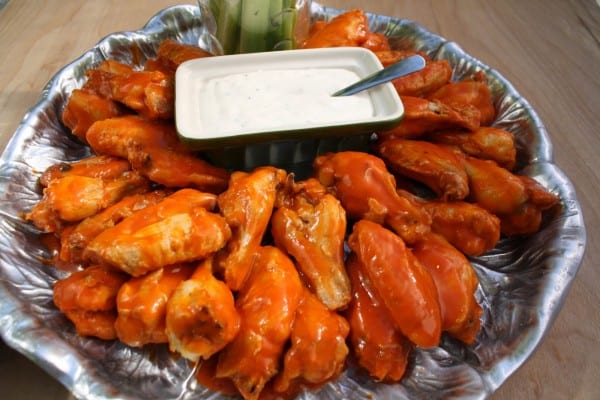 Here's the recipe for the spicy hot chicken wings. Enjoy!
Buffalo Hot Chicken Wings
Traditional Buffalo hot wings
Ingredients
4

lbs.

meaty chicken wings

(if frozen, defrost and pat dry)

1/2

cup

Frank's Hot Sauce

1/2

cup

unsalted butter

pinch

of salt

additional cayenne pepper to taste if you like it really hot.
Instructions
Pre-heat oven to 425 degrees F.

Line baking sheets with foil to prevent sticking and for easy clean-up. Spread wings out so they are not touching. Bake for 25-30 minutes. Remove excess grease if there is any, turn wings and cook an additional 25 minutes or until wings are golden brown and cooked through. Skin should be crispy.

If the wings are cooked, but not browned, place them under broiler for a few minutes per side to crisp and brown.

While wings are cooking, melt butter in a small saucepan over a low heat. Whisk in hot sauce and salt.

Toss cooked wings in sauce until well coated.

Serve with blue cheese dressing and celery sticks.