This recipe for Prime ribs of beef is a must for Christmas dinner! This classic recipe will show you how easy it is to make.
Every Christmas, for…I don't know how many years, we've had prime rib. It wouldn't be Christmas without prime rib, creamed horseradish and creamed spinach. A few years back, we added Rack of Pork and all the Scandinavian accompaniments to the Christmas menu. Yes, it's a lot of food…and yes, it's pretty elaborate. It is incredibly delicious, too! (This post was originally posted on December 4th, 2013, and has been updated to contain nutritional information. As an Amazon Affiliate, I may earn a small commission on qualifying purchases.))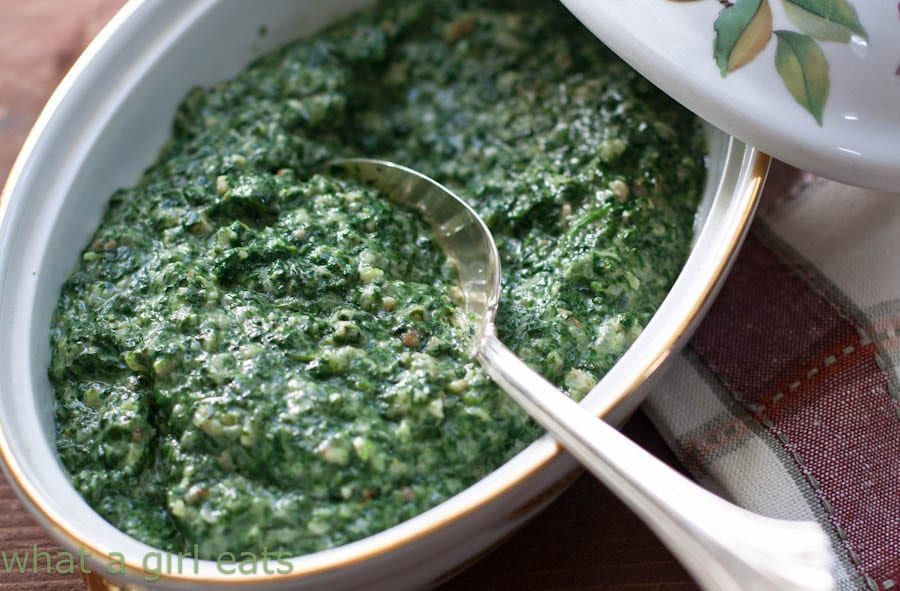 We celebrate Christmas in traditional British fashion, full-stop with crackers, paper crowns and corny jokes! Although the Yorkshire pudding doesn't make it on the menu every year, Trifle is always present. Two kinds of horsey sauce; creamed horseradish and the straight stuff, as well as mashed potatoes, are always on the table. You'll need a heavy roasting pan like this one, with moveable rack.
As with any recipe you make, the quality of the ingredients you use for the prime rib is key.
It's called Prime Rib, not Choice Rib or Select Rib for a reason. Yep, it costs a pretty penny. That's why we have it once a year, on Christmas Day. If you have a good quality piece of meat, it requires nothing more than kosher salt and pepper for seasoning and a hot oven.
The British restaurant I worked at served this with creamed spinach and creamed horseradish. Both the Creamed Horseradish Sauce and the Prime Rib recipe come from the Time-Life Series, The Cooking of the British Isles, 1969.
How much prime rib should buy?
Figure on one pound per person. That takes into account the bones and some for leftovers!
At what temperature should prime rib be roasted?
This method starts the prime rib at a temperature of 500 F. After 20 minutes, reduce the oven to 350 degrees F. and continue cooking until done. For best results bring the roast out about one hour before roasting.
What temperature should prime rib be cooked?
That depends on how you like your meat! I prefer to err on the rarer side, as it's always easier to cook a roast more, but impossible to go back once you've over-cooked it! This is when a meat thermometer is imperative. I use a thermometer to check the roast in several different spots to make sure that one side isn't cooking faster than another. Rotate the roast if your oven is uneven half-way through cooking. Pull the meat at 130 degrees F. for rare, 135 degrees F. for medium rare, and 140-145 for medium. I wouldn't suggest cooking it more than medium! Insert the thermometer in the center of the roast. The center will be rarest and the ends will be medium to medium-well ensuring that everyone gets their meat to their liking. The English restaurant I worked at reserved the end-cuts. Those in-the-know would call ahead to hold an end-cut.
How long should prime rib cook?
You should figure on 15-18 minutes per pound for rare to medium rare prime rib. For a smaller the roast, stay closer to 15 minutes per pound. A larger roast, should take about 18 minutes per pound. A six pound roast, shown here, start to check the internal temperature after 90 minutes. Remember for best results, the roast should not be ice-cold. A roast taken straight out of the oven and put into a hot oven will take longer than a roast that one that has sat out for an hour.
How long should prime rib rest?
After the roast has reached the proper temperature, remove it from the oven and tent it with foil. It will continue cooking. Usually the hardest part of any holiday meal is timing everything so that it arrives on the table hot all at once. Take the opportunity when your prime rib is resting to finish heating up the sides.
Classic Prime Rib
Classic Prime Ribs of Beef, recipe from the Time-Life Cooking Series, Cooking of the British Isles. Nutrition note: Since the calculation includes bones, I've calculated the values for 8 ounces of meat only, not including the bone. Actual caloric values will vary depending individual portion.
Ingredients
1 6-

pound

standing rib roast

Cracked black pepper
Instructions
Preheat oven to 500 degrees F.

For best results, take out rib and let stand at room temperature for at least an hour. Rub roast generously with kosher salt and pepper. Place in a large roasting pan, fat side up. Roast beef undisturbed, in the middle of the oven, for 20 minutes.

Reduce heat to 350 degrees F. and continue to roast, without basting, for about 1 hour, or until beef is cooked to your taste. A meat thermometer with register 130-140 degrees F. when the beef is rare. 150-160 for medium.

Remove roast from the oven, (it will continue to cook and the temperature will rise, once it's out of the oven) and tent it with foil.

Allowing the roast to rest before carving, undisturbed for 20-30 minutes, will allow the juices to redistribute throughout the meat.
Nutrition
Serving:
1
g
Calories:
676
kcal
Protein:
31
g
Fat:
60
g
Saturated Fat:
25
g
Cholesterol:
137
mg
Sodium:
101
mg
Potassium:
501
mg
Calcium:
17
mg
Iron:
3
mg
We serve the rib with two kinds of horseradish, the straight stuff and creamed horseradish. Make sure when you buy the bottled horseradish it's just pure horseradish or your creamed horseradish sauce will be too mild.
Creamed Horseradish Sauce
This creamed horseradish sauce is the perfect accompaniment to classic prime ribs of beef!
Instructions
In a small bowl, stir the horseradish, vinegar, sugar, mustard, salt and white pepper together until well blended.

Beat the heavy whipping cream until stiff peaks form. Gently fold the horseradish mixture into the cream. Taste and adjust seasoning.
Nutrition
Serving:
1
g
Calories:
38
kcal
Carbohydrates:
1
g
Protein:
1
g
Fat:
4
g
Saturated Fat:
2
g
Cholesterol:
14
mg
Sodium:
198
mg
Potassium:
7
mg
Fiber:
1
g
Sugar:
1
g
Vitamin A:
146
IU
Calcium:
6
mg
Iron:
1
mg
For a traditional English Christmas, don't forget these items!