Prime rib of beef is a favorite holiday meal for many people. This classic prime rib recipe will show you how easy it is to make, allowing you to impress your family and friends.
Every Christmas, for…I don't know how many years, we've had Prime Rib. It wouldn't be Christmas without Prime Rib, Creamed Spinach and Creamed Horseradish. A few years back, we added Rack of Pork and all the Scandinavian accompaniments to the Christmas menu. Yes, it's a lot of food…and yes, it's pretty elaborate. It is incredibly delicious, too! (This post contains affiliate links for your convenience at no additional cost to you.)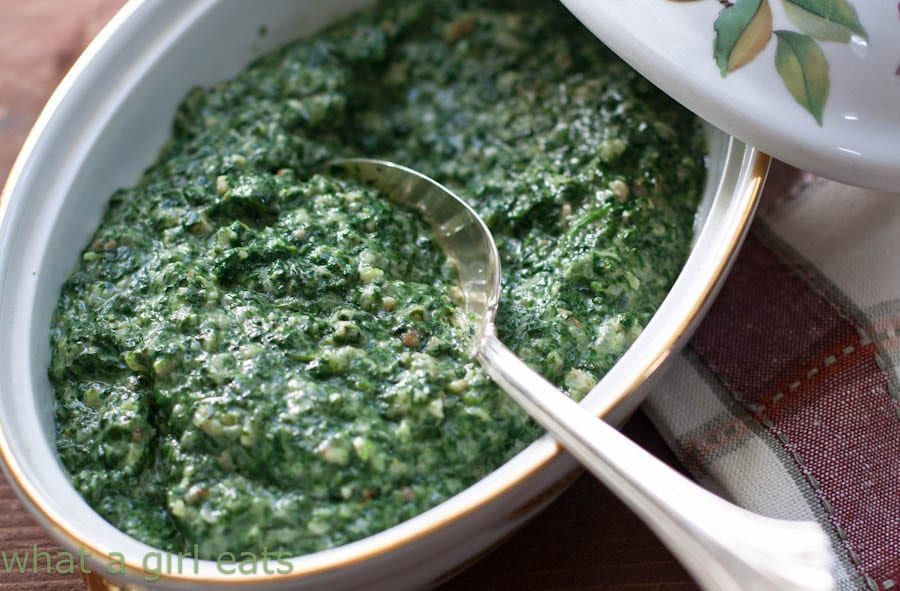 We celebrate Christmas in traditional British fashion, full-stop with crackers, paper crowns and corny jokes! Although the Yorkshire pudding doesn't make it on the menu every year, Trifle and Creamed Spinach are always present. Two kinds of horsey sauce, Creamed Horseradish and the straight stuff as well as two kinds of potatoes, mashed and Roasted Potatoes are always on the table. You'll need a heavy roasting pan like this one, with moveable rack.
As with any recipe you make, the quality of the ingredients you use for the prime rib is key.
It's called Prime Rib, not Choice Rib or Select Rib for a reason. Yep, it costs a pretty penny. That's why we have it once a year, on Christmas Day. If you have a good quality piece of meat, it requires nothing more than kosher salt and pepper for seasoning and a hot oven.
The British restaurant I worked at served this with Creamed Spinach and Creamed Horseradish Sauce. Both the Creamed Horseradish Sauce and the Prime Rib recipe come from the Time-Life Series, The Cooking of the British Isles, 1969.
Figure around one pound of prime rib of beef per person, including the bones.
Classic Prime Rib
Classic Prime Ribs of Beef, about 1 pound per person. From the Time-Life Cooking Series, Cooking of the British Isles.
Ingredients
1 6-

pound

standing rib roast

Cracked black pepper

1/2

cup

bottled horseradish,

(not creamed) drained and squeezed dry in a kitchen towel.

2

Tablespoons

white wine vinegar

2

teaspoons

sugar

1/2

teaspoon

dry English mustard,

(Coleman's)

1

teaspoon

kosher salt

1

teaspoon

white pepper

1

cup

heavy whipped cream,

chilled
Instructions
Preheat oven to 500 degrees F.

Rub roast generously with kosher salt and pepper. Place in a large roasting pan, fat side up. Roast beef undisturbed, in the middle of the oven, for 20 minutes.

Reduce heat to 350 degrees F. and continue to roast, without basting, for about 1 hour, or until beef is cooked to your taste. A meat thermometer with register 130-140 degrees F. when the beef is rare. 150-160 for medium.

Remove roast from the oven, (it will continue to cook and the temperature will rise, once it's out of the oven) and tent it with foil.

Allowing the roast to rest before carving, undisturbed for 20 minutes, will allow the juices to redistribute throughout the meat.

Creamed Horseradish:

In a small bowl, stir the horseradish, vinegar, sugar, mustard, salt and white pepper together until well blended.


Beat the heavy whipping cream until stiff peaks form. Gently fold the horseradish mixture into the cream. Taste and adjust seasoning.

Makes about 2 cups.
We serve the rib with two kinds of horseradish, the straight stuff and Creamed Horseradish Sauce. Make sure when you buy the bottled horseradish it's just pure horseradish or your creamed horseradish sauce will be too mild.
For a traditional English Christmas, don't forget these items!