If you like grilled vegetables, you will love this Grilled Vegetable Marinade with lemon and thyme! Paleo and Whole30 compliant!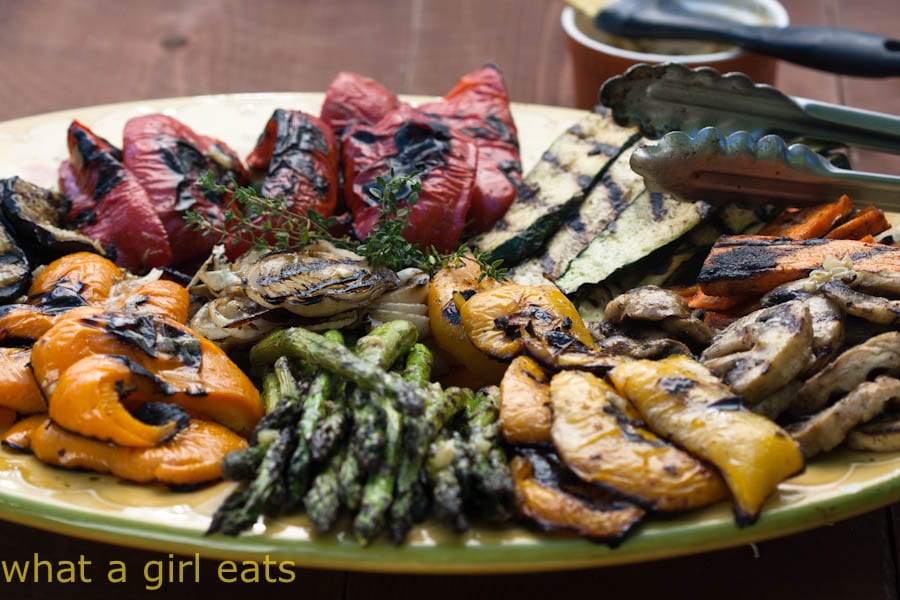 This is a do-over of one of my very first posts, Grilligan's Island. I didn't like my photos the first time, so now, 2 years later, I've re-done it. I've also made a minor change to make this Paleo friendly and Whole30 compliant. Simply substitute the butter for clarified butter or ghee. Make sure that you check your mustard if you are being really strict!
I love to make a large platter of these grilled vegetables  for a big summer BBQ, but even if I make this amount, just for my family , they'll end up eating twice as many vegetables when I serve them grilled with this amazing basting sauce.
Don't be limited by what I've made, corn on the cob and sweet potatoes would be great as well. If I purchase small mushrooms, I'll skewer them, but this time, I found some really big brown mushrooms which I sliced. Big Portobello mushrooms would be fabulous too!  Asparagus, mushrooms and the onions are everyone's favorites.
I made this platter last week for dinner with some grilled chicken for my family of four. Of what you see here, all the mushrooms were eaten, (about a pound), all of the zucchini (2), one whole onion and  nearly all of the bunch of asparagus.
We had leftover bell peppers and carrots and eggplant. (Spencer hates eggplant…I'm not really sure why I torture him with it!) We'll throw the left-over grilled vegetables in sandwiches or in salads. The following night I ate a large plate of them with feta cheese for my dinner. These vegetables go well with Greek Grilled Chicken or Rosemary Shrimp.
This grilled vegetable marinade recipe comes from Bon Appetit, from about 1993?
Some of the items used in this post are available here for your convenience, at no additional cost to you.


Grilled Vegetables with Lemon Thyme Butter
Grilled Vegetables with Lemon Thyme Butter, recipe from Bon Appetit circa 1993.
Ingredients
1/2

cup

1 stick butter, diced (if Paleo or Whole30, use clarified butter)

1/3

cup

chopped shallots

1/4

cup

olive oil

3

tablespoons

Dijon mustard

2

tablespoons

fresh lemon juice

2

tablespoons

chopped fresh thyme

1

tablespoons

grated fresh lemon peel
Instructions
Combine all ingredients in a heavy sauce pan. Whisk over medium heat until butter melts and sauce is well blended. Season to taste with salt and pepper. (Can be made 3 hours ahead. Cool. Whisk over low heat to rewarm before using.)

Assorted vegetables.

Cut zucchini, carrots and onions about 1/4" thick.

Slice bell peppers in 1/3's or 1/4's.

Skewer the mushrooms.

Brush veggies with marinade and grill until done.

Serve with extra sauce.