Guinness beef stew is a hearty fall stew, filled with beef, fresh vegetables, fresh herbs, and a savory stout stock.
Autumn is my favorite season. Maybe it's because I am a teacher, it signals a new beginning. It's the time of year I can close my eyes and pretend, for just a moment, that I don't really live in, too-hot-for-October, California, but rather, somewhere in New England, where the leaves have turned and the air is crisp. (This post contains affiliate links)
The air smells different and I love to wake up in the morning to take in a deep breath. I know where all the liquid amber trees in my neighborhood grow and enjoy watching their progress as they change colors and drop their leaves. I love to pull out my autumn clothes, all harvest-y, earthy shades, that somehow don't look quite right in the spring.
But I am stubborn, so regardless of what the thermometer reads, as soon as October 1st rolls around, I decorate my front entry with pumpkins, long for cool afternoons so I can light a fire, and begin to cook soups and cozy stews. I think if Autumn were a sex, it would be a he, don't you?
This Guinness beef stew has just the right feel for autumn, masculine and hearty.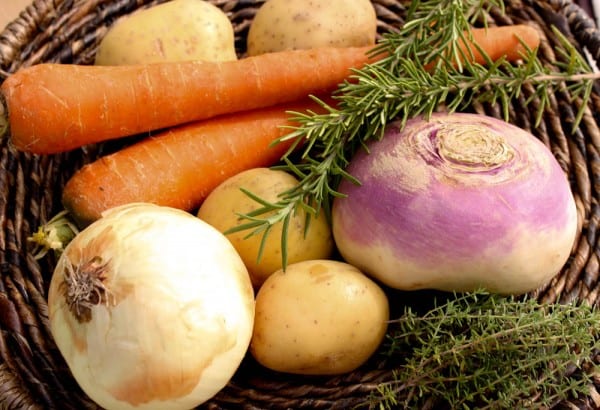 The original recipe, from Cooking Light, calls for the use of lamb. But since lamb is pretty pricey, I switched it to beef. I also added some frozen peas at the end, because I love extra veg.
I was so happy last Saturday when I woke up to a grey, overcast day. A perfect day for cooking stew! OK, I know I promised "quick" food, and this definitely does not fall into the quick category, but you can also throw it all in the slow-cooker after the initial browning with very similar results! Hands on time is really only about a half hour. The rest of the time your house will be filled with the lovely smell of dinner cooking! I
Click here for a One Minute Food Byte on how to make a Bouquet Garni.
Put on a cozy fall sweater and enjoy a bowl full of Guinness beef stew!
Guinness Beef Stew
Guinness Beef Stew, adapted from Cooking Light. If using the slow-cooker, brown meat on the stove-top first. While Guinness is not technically a gluten free beer, so if you're following a strict gluten free diet, you will need to substitute a dark, gluten free beer.
Ingredients
2

cups

chopped onion

1

tablespoon

fresh thyme

chopped

1 1/2

teaspoons

fresh rosemary

chopped

3

tablespoons

all-purpose flour* for gluten free

substitute 1 1/2 tablespoons of cornstarch and mix with 1/4 reserved cold beef stock or water.

2 1/2

lbs.

beef

cut into 1 inch cubes

2

cups

Guinness Stout

1

tablespoons

tomato paste*

1

tablespoon

Worcestershire sauce

3

cups

beef broth

1

bay leaf

2

cups

peeled

cubed Yukon gold potatoes

2

cups

1 inch thick sliced carrots

8

ounces

baby turnips

peeled and quartered (I couldn't find baby turnips...I just used 1 big one)

1/2

cup

frozen petite peas

1

tablespoon

whole-grain Dijon mustard

fresh chopped parsley
Instructions
Heat a couple of tablespoons of olive oil in a large Dutch oven over a medium-high heat. Add chopped onion and saute for 5 minutes, stirring occasionally. Remove onions from pan. Season beef chunks with salt and pepper and dredge in flour or corn starch if gluten free.

Add a little more oil to pot it necessary and saute beef chunks in batches. You don't want to cook it all at once, because if you crowd the pan, the beef won't brown. Add beef to onions as they cook.

Add beer to pot and bring to a boil, scraping or "deglazing" the pan to loosen all the browned bits of flour.

Cook until the beer is reduced by about 1/2, about 5 minutes.

Add onions, and browned beef.

Stir in the tomato paste.

Add broth and bay leaf; and simmer for 1 hour and 15 minutes, stirring occasionally.

Uncover and stir in potatoes, turnips and carrots.

Simmer uncovered, for about 1 1/2 hours or until meat and vegetables are tender. For slow-cooker, cook for 8 hours on low.

Add mustard and peas the last 10 minutes of cooking

Season to taste with kosher salt and pepper.

Sprinkle with fresh chopped parsley.
* Don't you just hate it when a recipe calls for ONE tablespoon of tomato paste? You just spent $0.80 for a little can. What to do with the rest of the can? Measure out 1 tablespoon portions on a sheet of parchment or waxed paper. Freeze until firm. Put the frozen portions into a Ziplock bag, then pop it into the freezer for future use.
Here are a few of the items used in this post. (I receive a small percentage of sales at no additional cost to you which helps maintain my website. Thank you for your support!)