Pumpkin ravioli with brown butter, sage and walnuts is a delicious dinner utilizing fall's favorite squash, pumpkin!
No, I'm not completely tired of pumpkin recipes just yet. So last weekend I made Pumpkin Ravioli with Browned Butter, Sage and Walnuts. The family flipped and Sophie asked to take the left-overs for her school lunch. We eat a lot of pumpkin during the fall, but most of it is in the sweet form, pancakes, pumpkin bread, doughnuts and my favorite, pumpkin cheesecake.
Pumpkin is very under-used as a savory, and yet it is a vegetable. While you can certainly buy and prep a whole pumpkin, using canned pumpkin makes this Pumpkin Ravioli a bit easier. I know it's cheating to use won ton skins in lieu of hand-made pasta dough, but doing so makes this do-able for a weeknight meal, especially when you have some little hands to help out.
My 13 year old has been making won tons, rolling sushi and making ravioli since she was very young.
Having the kids help in the kitchen is a great way to get them to vary their palate, teach a skill and ease the cook's work!
The simple browned butter sauce with chopped walnuts is a great counter-part to the rich filling of the pumpkin ravioli.
This is also an elegant entree for the vegetarian at your holiday dinner.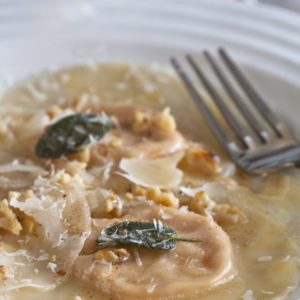 Pumpkin Ravioli With Browned Butter, Sage And Walnuts
Easy pumpkin ravioli filled with ricotta and parmesan in a browned butter and sage sauce. Serves 4 as an entree or 6 as an appetizer or starter.
Ingredients
1/2

cup

cooked pumpkin

(NOT pumpkin pie filling)

1/2

cup

ricotta cheese

1/4

cup

parmesan or Romano cheese

finely grated

1

egg

1

clove

of garlic

minced

1/2

teaspoon

kosher salt

1/4

teaspoon

white pepper

1/8

teaspoon

nutmeg

1

package won ton or pot sticker wrappers

(round or square)

8

Tablespoons

unsalted butter

1

teaspoon

fresh lemon juice

10-12

fresh sage leaves

1/4

cup

chopped

toasted walnuts

Additional grated parmesan cheese
Instructions
In the bowl of a food processor, combine first 8 ingredients, pumpkin through nutmeg, and pulse 4 or 5 times, scrapping down sides until blended.

Using 2 won ton wrappers, place one scant tablespoon of pumpkin mixture in the center of one, brush the edges with water and place second wrapper on top, pressing all around to seal. Place ravioli on a cookie sheet. Cover with a slightly damp tea towel to prevent drying out.

In a large skillet, melt butter over over medium heat. Add sage leaves. Butter will become fragrant and begin to turn golden brown. Watch it carefully, as it can quickly burn. When it begins to darken, remove pan from the heat and stir in lemon juice to stop butter from cooking.

Bring a large pot of salted water to a boil, reduce to a simmer and carefully drop ravioli, 3 -5 at a time in.

Remove ravioli from water with a slotted spoon and place on a serving platter, cover with foil until all ravioli are cooked. Top with warm browned butter and walnuts. Serve with additional grated parmesan cheese.
Items used in this post are available here for your convenience at no additional cost to you.
Looking for more pumpkin recipes? How about: