Browned butter mashed sweet potatoes with sage is an easy Thanksgiving side dish recipe, but it's delicious to eat any time of the year.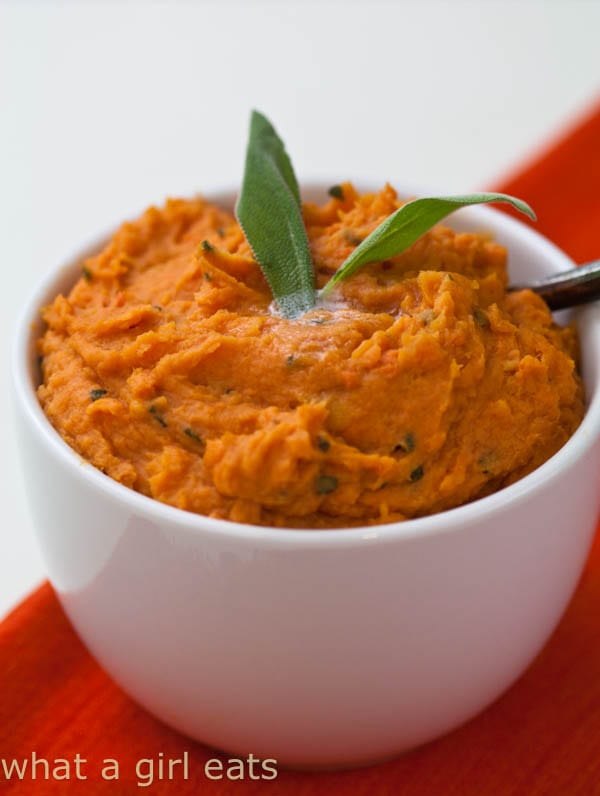 I came pretty late to the sweet potato party. The marshmallow and brown sugar topped side dishes frighten me. I've never been a fan of sweetened sweet potatoes. So when they made a resurgence into the culinary world, I was leery to say the least. (As an Amazon Affiliate, I may earn a small commission on qualifying purchases.)
I had been perfectly satisfied with the standard issue, classic mashed potatoes as a side dish. But there is something about the combination of browned butter and sage that adds a nice touch of autumn to just about any dish.
The key to perfectly browned butter is to heat it over a medium heat, just to the point of golden brown. No more, no less. A bit in one direction or the other and your butter will be melted or burnt, not nutty and flavorful. Bruising the sage brings out the flavor even more. Now days, the sweet potato definitely holds a spot at our dinner table, especially during the fall.
I hope you enjoy my recipe for these browned butter mashed sweet potatoes.
Some of the items used in this post are available at my Amazon affiliate store.
nbsp;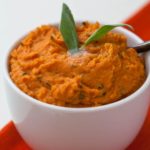 Browned Butter Mashed Sweet Potatoes with Sage
Ingredients
3

cups

cooked mashed sweet potatoes

about 4 medium

6-7

large sage leaves

cut chiffonade

6

Tablespoons

unsalted butter

Kosher salt and pepper to taste.
Instructions
Clean and cook the sweet potatoes until flesh is tender. Either prick and bake or microwave. About 40 minutes if baking, about 5-7 minutes if microwaving, depending on the size and number of sweet potatoes.

Peel and reserve flesh. (I save the peels for my dog)

In the bowl of a mixer, fitted with a paddle, beat the sweet potatoes for 1 or 2 minutes, until almost smooth.

In a saucepan over a medium heat, melt butter and sage together, watching carefully until it begins to turn golden brown. Just as it turns nutty brown and fragrant, remove from the heat and add to the mashed sweet potato.

Blend sweet potato mash and browned butter and sage until mixed. Season with salt and pepper to taste.

Serves 6, 1/2 cup each.