Coconut Toasted Almond Ice Cream tastes like an Almond Joy candy bar, in a cold and creamy way!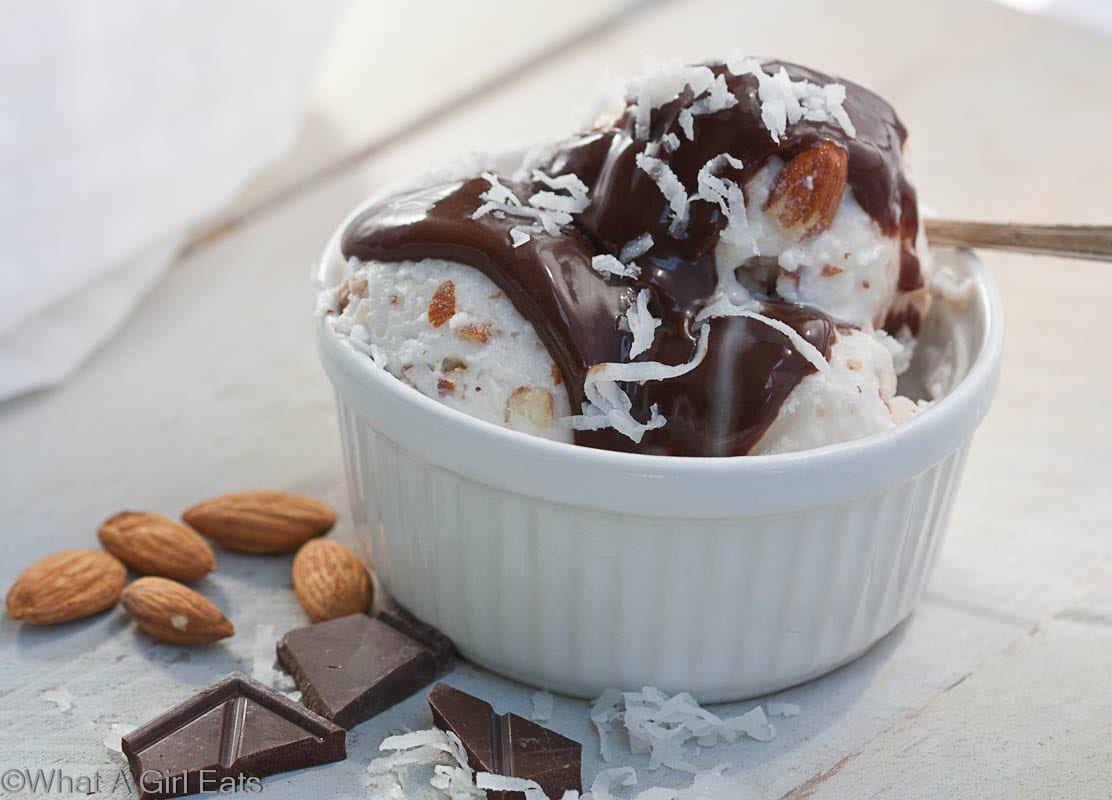 I think joy is most definitely a temporary state of mind, along with bliss, elation and ecstasy. Those emotions are too powerful, too all-encompassing, and too passionate to last for long. Happiness, on the other hand is a permanent condition. One can have a life filled difficulties, disappointments, set-backs and tragedies, yet still have a happy life. If happiness is a state of mind, than it cannot be derailed by the temporary states of melancholia, sadness or the blues.
But a truly happy life has no room for despair and is always filled with hope. Joy comes in spurts, which makes it more welcome. Sometimes joy is expected…graduation day, ones' wedding, the birth of a child. Sometimes joy is unexpected…a gift, the surprise return of a loved one, a proposal.
Joy is difficult to miss. It sweeps over a face and fills every pore. It pulls and stretches a smile from ear-to-ear and lands smack-dab inside the iris, lighting the eyes for all to see. Sometimes joy is so overwhelming, it ends up in tears. But tears cannot hide joy. Joy shines through, always.
I've thought about making Coconut Toasted Almond Ice Cream ever since a friend messaged me about her new ice cream maker and coconut ice cream.
All I could think about when hearing her describe it was, "sometimes you feel like a nut, sometimes you don't. Almond Joy has nuts, Mounds don't!" Well, I almost always feel like a nut. I also wanted to lighten up the heavy cream version. I knew I could do it, knowing what I know about ice cream and gelato.
My jeans tightened considerably when I toured Europe after college and discovered gelato in Florence. Gelato is magical. I think it's the texture…dense, creamy, and intense in flavor. Yet oddly enough, gelato is less caloric than ice cream. What's the difference? Ice cream is rich in butterfat, cream, and eggs and churned so that air is incorporated into it. Gelato contains no eggs or cream, just milk, but is processed so that much less air is whipped into it.
This ice cream is half-way between a gelato and an ice cream. Instead of whole milk and heavy cream, I used just whole milk. I added a tablespoon of coconut flavored rum. Adding a bit of alcohol to ice cream will inhibit the freezing process and therefore keep it from forming ice crystals. Yet, because I had to use my ice cream maker, more air was whipped into it, preventing it from being true gelato. The next key to ice cream making is letting it "cure" overnight. It will come out of the ice cream maker looking like soft-serve yogurt or ice cream. Freezing it overnight will firm it up. Homemade Hot Fudge Sauce recipe right here!
Did I mention how easy it was? Five ingredients, quick mix, no cooking!
Enjoy a bowl full of coconut toasted almond ice cream!
Coconut and Toasted Almond Ice Cream
Coconut and Toasted Almond Ice Cream
Ingredients
2 1/2

cups

whole milk

1 15

ounce

can cream of coconut

I used Coco Lopez

3/4

cup

shredded sweetened coconut

chopped fine in a food processor

3/4

cup

raw almonds

coarsely chopped and lightly toasted

1

tablespoon

coconut flavored liqueur

like Malibu
Instructions
Whisk the milk into the cream of coconut. Pour into an ice cream freezer*.

Make according to your ice cream maker's instruction.

When ice cream is done it will still be quite soft. Fold in coconut and toasted almonds. Freeze until firm. Serve with fudge sauce.

*if you don't have an ice cream maker, you can still make this. Freeze for several hours. Remove from freezer and stir ice cream every few hours to achieve proper consistency.
I love my ice cream maker! It's pretty reasonably priced. I keep the insert in the freezer and then when we feel like homemade ice cream, we're prepared. (affiliate link at no additional cost to you).