This simple Caprese salad brings the flavors of fresh garden tomatoes, soft mozzarella, and fresh basil together for a delicious, light summer meal.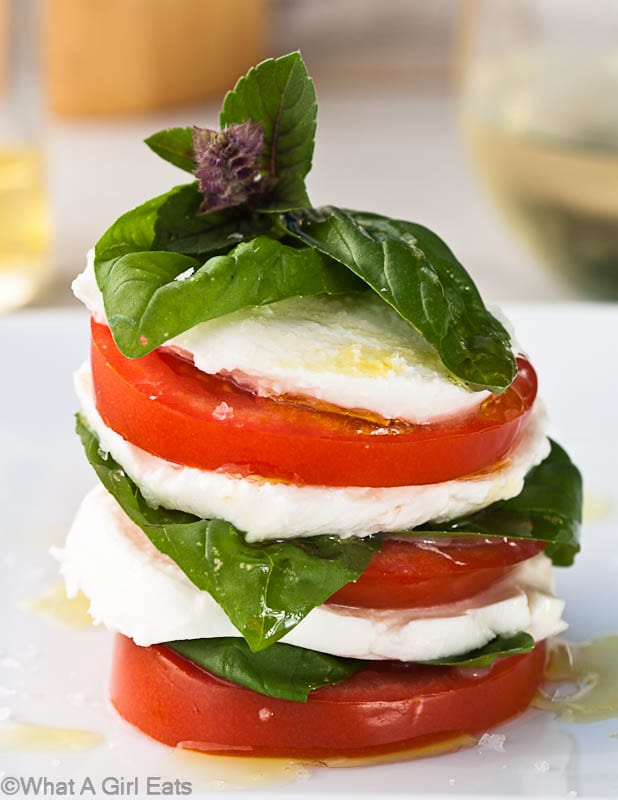 Every now and then, when I get really dressed up for some event that demands a Little Black Dress, I get the urge to pucker up and apply a swath of red lipstick. I am of that "certain age", where a woman really shouldn't go out in public without some color on her fading lips. Then I look in the mirror, and staring back at me is my 13 year old self. I can hear my Aunt Jeanne, shouting to me and my cousin Sara, "Wipe that "stuff" off of your lips!", as we sauntered back into her house wearing pineapple-flavored, no-color-but frosted, lip gloss in a pot, that we'd purchased for fifty cents at the Five and Dime one summer day.
So, even today, I never quite make it out of the house with those bright red lips. I guess I feel like an impostor. A girl playing in her mother's make-up drawer. (This post was originally posted on July 18th, 2012 and contains affiliate links which help maintain this site's free recipes. Thank you!)

Perhaps this desire for simplicity is also translated into the food I cook. What happened to simplicity? What happened to single-note food that nourishes and also satisfies all the senses? Why not enjoy each flavor, separate, yet together? Sometimes food does not need to be covered in sauces, infusions and reductions. Sometimes food can and should stand alone.
Caprese, fancy word, simple salad.
An Italian would scoff at the idea that there would be a recipe for Caprese. What you see is what you get. Perfectly ripe, garden-fresh tomatoes, fresh mozzarella, basil, a drizzle of olive oil, and a sprinkle of sea salt. Resist the temptation to add ruffles and bows, like garlic or balsamic. Instead, savor each bite. The juxtaposition of sun ripened tomatoes, the texture of the creamy, smooth mozzarella, the pungent bite of the licorice scented basil, the buttery rich olive oil, and the pop of the sea salt on your tongue, bringing all the notes together in the symphony in your mouth. Below is a different way of presenting a Caprese salad. This was served as part of our antipasto course and was shared by three of us.
While it might be difficult to find true mozzarella di buffalo, most towns or cities have either international grocery stores or Italian grocers which generally carry high quality mozzarella cheese. The same applies to the olive oil. Since the olive oil is one of the stars of this show, please buy the best quality extra virgin olive oil you can afford. I have 2-3 types of olive oil in my pantry. The most expensive one I use for the "drizzle" or for making salad dressing. Please also use kosher or coarse sea salt as regular table salt is too salty.
Some of the items I used in this post are available here at my Amazon store. There is no additional cost to you. Thank you for your support!


Caprese Salad
For a caprese salad, make sure you use the best quality ingredients you can afford. In season tomatoes, the best quality olive oil and mozzarella and fresh basil.
Instructions
Wash, core and slice the tomatoes about 1/4" thick.

Slice mozzarella about 1/4" thick. Layer tomatoes, basil and mozzarella on a plate. Drizzle each "stack" with olive oil. Season with kosher or sea salt, (coarse, not fine) and fresh cracked black pepper to taste.