This Gluten Free Turkey Meatloaf is a makeover of one of the first recipes I posted when I first started blogging. It's a family favorite and a great way to stretch a pound of ground meat!
I've updated it for a number of reasons. First of all, I wanted to make it gluten free. Second, the original recipe used a stuffing mix, which isn't really necessary if you just use dried bread cubes and poultry seasoning. This is the only meatloaf recipe I will eat, as I'm not a fan of ketchup, and it seems most meatloaf has ketchup in, or on it. (This post contains affiliate links for your convenience)
My mom never made meatloaf when I was growing up, so the first time I ever had this was in my late 20's. It's so delicious, I generally make a double batch because the first one is inhaled by the family and I do like to "cook once, eat twice"! It's a great budget dish too, as a pound and a half of ground meat will serve 4-6. I pump up the flavor in both the meatloaf and gravy with a bouillon paste, like this one.
The "secret" ingredient, club soda makes it vey light and fluffy. A pound and a half of ground turkey makes enough meatloaf to serve 4 to 6. Use your favorite gluten free bread to make the bread cubes. I save the small bits and the heals in the freezer for just this sort of recipe. My family likes this meatloaf with mushroom gravy and mashed potatoes.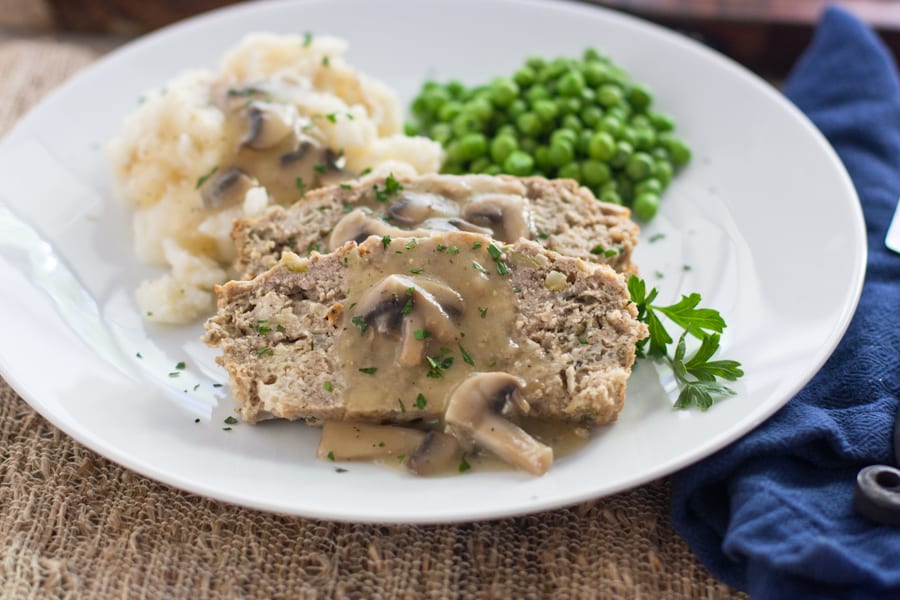 Gluten Free Turkey Meatloaf
This gluten free turkey meatloaf is a hearty and healthy dish, sure to please the pickiest of eaters.
Ingredients
1 1/2

pound

ground turkey

1

onion chopped

about 2 cups

2/3

cup

chopped celery

3

ounces

about 2 cups, diced gluten free bread cubes

2

eggs

lightly beaten

2

Tablespoons

olive oil

2

cloves

garlic

minced

2

teaspoons

poultry seasoning

1 1/2

teaspoons

kosher salt

1

teaspoon

black pepper

2

teaspoons

chicken bouillion

1/2

cup

plain club soda
Instructions
Preheat oven to 350 degrees F.

Put bread cubes on a baking sheet and toast in oven until golden and crisp, about 10 minutes.

In a saute pan, heat oil. Add chopped onion and celery and cook 2-3 minutes, until translucent. Add garlic and cook and additional minute, just until fragrant. Remove from heat.

In a large bowl, combine ground turkey, toasted bread cubes, eggs, sauteed vegetables, spices and club soda. Combine. (I use my hands).

Fill a lightly greased 9"x6" loaf pan with meatloaf mixture. Do not pack. Bake at 350 degrees F. for 1 hour to 1 hour and 15 minutes. Meatloaf should be hot and bubbly. Let stand 15 minutes for juices to set.
If you're looking for other ways to change up your pound of ground meat, how about Chinese Lettuce Wraps or Indian Samosas?
Here are some of the items used in this post for your convenience at no additional cost.

I hope your family enjoys this gluten free Turkey Meatloaf as much as we do!