Strawberry fool is a deliciously light dessert, with layers of whipped cream and strawberry puree. It makes a beautiful presentation for any occasion.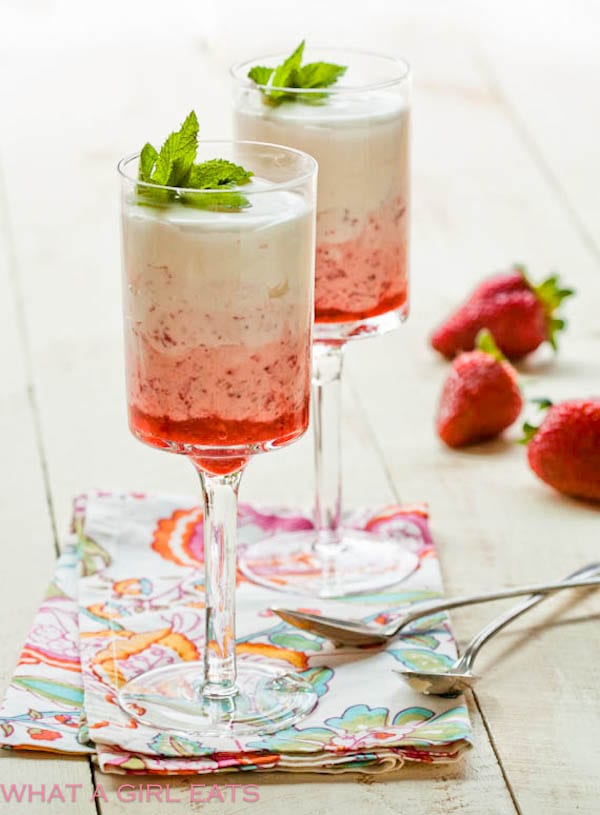 I spent the weekend taking a food styling and a food photography class with a dozen other women, all interested in either food styling or food photography, at MDR Photography Studio in Marina Del Rey. It was the first time I've ever seen a real photography studio, or seen a real photographer work before!
Saturday was spent with the fabulously funny, food stylist, Denise Vivaldo.  Denise and I went to the California Culinary Academy in San Francisco, when hair was big, and shoulder pads were bigger. After the CCA, Denise went on to become a well respected and well known food stylist, who has written 7 of her own books, and collaborated on over 100 other cookbooks.
I got married and had kids.
The second day we learned about cameras and how to set up shots. The lovely Christina, from MDR Photography Studio, taught us the basics about our cameras, and their functions, then we all "prepped" our homework and took turns shooting in Christina's studio.There were 13 of us working on our projects in the studio. As each of us set up our project and shot it with guidance from Christina, Denise and Cindy, Denise's assistant, the rest of us would jump in and shoot around or behind, trying to get a second shot.
I knew ahead of time I wanted to spend as much time observing and learning the photography bit as possible, so I purposely chose something that would require very little prep time.
I decided on strawberry fool, which is an English dessert or "pudding", little more than whipped cream with berry puree.
There were a couple of ideas I had on how to make my Fool, depending on the glassware. A Fool comes together very quickly, but it can look very fancy if you just pop it in a champagne glass! Denise suggested I "ombre" the layers, causing Cindy to laugh. I did it anyway. We each had our own vision on how to style our "sets", with Denise, Christina and Cindy guiding us. The best part was being able to shoot everyone else's food. It felt a bit like "stealing", taking pictures of other people's food. So, I had to detach myself and forget that it wasn't my food, it felt weird.
The recipe for Avocado with Shrimp and Mango Salsa is here: (Mimi Avocado)
I think strawberry fool is the perfect dessert. Make the recipe and let me know if you agree.
Strawberry Fool
Ingredients
1

pint

of strawberries

washed, hulled and chopped

1/2

cup

of sugar

divided

1

cup

of heavy cream

2

tablespoons

Chambord

(Raspberry liqueur) optional
Instructions
Add 1/4 cup of sugar and the Chambord to the strawberries and let them macerate for about 15 minutes, to bring out the juices, stirring occasionally. With a slotted spoon, reserve 1/2 of the berries. Puree remaining berries and juice in a food processor or blender, leaving puree a bit chunky.

Whip cream to stiff peaks in a mixer, adding the remaining 1/4 cup sugar, a little at a time, about half way through.

To finish a classic Fool, you would then carefully fold in all of the remaining strawberry mixture into the whipped cream, or as I did, (mostly for photographic purposes) add the puree to the whipped cream in varying degrees to create an "ombre" effect.

Chill fools for one hour for best flavor.
For this recipe I used:
This post contains affiliate links at no additional cost to you. Thank you for supporting this website.