Trifle is a classic English dessert, with layers of pound cake, custard, fresh fruit, and whipped cream. This holiday trifle uses raspberries and poached pears, making it as delicious as it is beautiful. (This post was originally published exactly 5 years ago today, on December 6th, 2012!)
I have warm memories of Christmases spent in England. We'd drive up from London for a few days to my friend's family home in North Yorkshire. The dining room in the "house" was large enough to hold one long table which sat  24 family members and one, far-from home Expat-Californian. Mr. R. as the host, wore a smoking jacket and "slippers", while all the other men wore dinner jackets with fancy waistcoats. We women wore gowns. Christmas dinner was definitely a black tie affair. (Disclosure; this post contains affiliate links)
In addition to the Plum Pudding brought to the table soaked in alcohol and set afire, there was an English Christmas Trifle.
Ever since then, Christmas really isn't Christmas without it. I had only ever made it with Bird's English Custard and Sara Lee Pound cake. Bird's is similar to Creme Anglaise, ("English Cream") in the powdered form, and while not as fresh tasting and yummy as from scratch, Bird's is a classic British ingredient and far easier.
Bird's can be found at most grocery stores or here on Amazon. Last year, Mom set the dessert bar even higher when she adapted Emeril Lagasse's Poached Pear and Raspberry Trifle. Mom made a few changes. Instead of using a store bought pound cake, she made an Almond Pound Cake, (my favorite flavor!) sprinkled the cake with a combination of Amaretto (more almond flavor!) and Marsala. For step-by-step photos on how to poach pears, click here.  While you can make trifle in a large bowl, to make it a real show-stopper, use a glass trifle bowl like this one.
Want to simplify this trifle recipe?
Use store-bought pound cake, Bird's custard powder, and canned pears packed in their own juice. From there, you'll just need to assemble the trifle!
Looking for more trifle dishes?
How about Lemon Trifle Parfaits?
Or Dark Chocolate S'Mores Trifles?
Or these individual English Trifles!
This English Christmas Trifle is bound to be a show-stopper!
Some of the items used in this recipe are available here at no additional cost to you.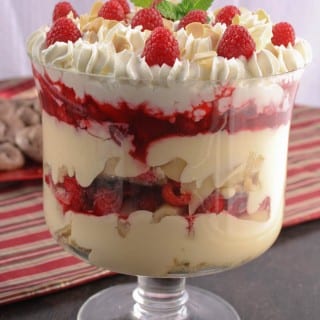 English Christmas Trifle
Poached Pear and Raspberry Trifle, adapted from Emeril Lagasse. Requires almond pound cake, (or store-bought), homemade Creme Anglaise, (or Bird's custard), poached pears, fresh raspberries and homemade whipped cream.
Ingredients
1

vanilla bean

split lengthwise

4

cups

heavy cream,

divided

6

egg yolks

1/2

cup

granulated sugar

Prepared pound cake

about 12 ounces, crusts trimmed

1/2

cup

Marsala wine,

or sherry

1/2

cup

Amaretto

4

cups

fresh or frozen and thawed raspberries

1/4

cup

confectioners' sugar

Fresh raspberries and mint leaves for decoration
Instructions
To make the creme anglaise, in a small saucepan, bring 2 cups cream to a bare boil with vanilla bean, and scraped seeds over medium heat. Remove from the heat and let cool slightly. In a medium bowl, beat the egg yolks and 1/2 cup granulated sugar until ribbons form. Gradually add 1 cup of the warm cream, and mix well. Add back to the pot with the remaining cream and stirring constantly cook over medium heat until thick enough to coat the back of a spoon. Remove from the heat and strain through a fine mesh strainer, discarding the vanilla bean. Press a piece of plastic against the surface to prevent a skin from forming. Let cool slightly.


In a medium bowl, whip the remaining 2 cups cream with the confectioner's sugar.


To assemble the trifle cut the cake into 1/2-inch thick slices to fit tightly into the bottom of a trifle bowl (or a 1 1/2-quart decorative glass bowl), and slightly up the sides about 1-inch.

Drizzle or sprinkle the cake with Marsala and Amaretto. In a mixing bowl toss the berries with 2 tablespoons Marsala, stirring to bruise the berries slightly. Layer 1/3 of the pears over the top of the cake, then top with 1/3 of the creme anglaise, (or prepared Bird's Custard) followed by 1/3 of the raspberries. Repeat the process, layering the remaining ingredients, finishing with the freshly whipped cream on top.
Use this almond pound cake in your holiday trifle, (or purchase a store bought pound cake).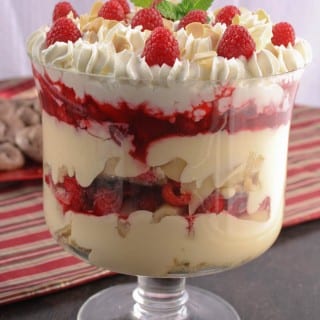 Almond Pound Cake
This Almond Pound Cake recipe makes one 10" (angel food cake pan size). This can also be made in two loaf pans. For the trifle recipe, you will need about 1/2 recipe, or the equivalent of a 12 ounce loaf.
Ingredients
3 1/2

cups

flour

1

teaspoon

baking powder

1/2

teaspoon

salt

3

sticks butter

room temperature

7

ounces

of almond paste

crumbled

2 3/4

cups

of sugar

6

large eggs

lightly beaten with a fork

1

teaspoon

vanilla

1

teaspoon

almond extract

1

cup

whole milk
Instructions
Preheat oven to 325 degrees F.

Sift dry ingredients together in a medium sized bowl.

In a mixer, cream together butter and almond paste. Add sugar and beat until smooth. Add eggs, 2 at a time in 3 separate additions, until incorporated. Add milk and almond and vanilla extracts.

Gradually add flour just until mixed, do not over mix.

Pour into a lightly greased and floured 10" tube pan, (angel food cake pan)

Bake for approximately 1 hour and 25 minutes or until skewer comes out clean. Cool. Then invert pan and remove cake.
Honey Poached Pears
Ingredients
4

cups

water

1

cup

honey

1

vanilla bean,

split

4

firm but ripe Bosc or Bartlett pears,

peeled
Instructions
To poach the pears, in a medium saucepan, combine the water, honey, seeds scraped from 1 vanilla bean and vanilla bean. Bring to a boil and cook, stirring, until the honey dissolves. Add the pear halves, reduce the heat, cover and simmer until the pears are tender when pierced with a sharp knife, about 12 minutes. Transfer the pears with a slotted spoon to a cutting board and let cool slightly. Cut into thin slices.