Huevos Rancheros is a popular Mexican dish of fried or poached eggs served on a tortilla with a spicy tomato sauce. Quick and easy to make, and incredibly delicious!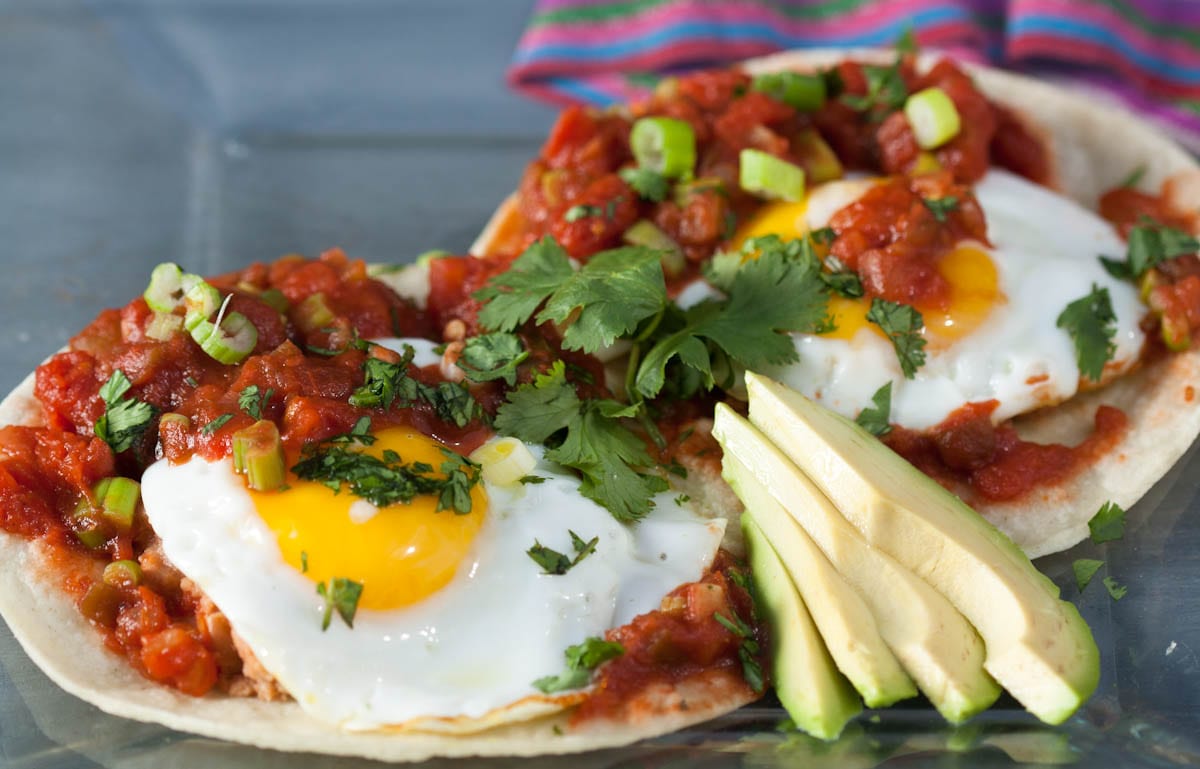 Tomorrow is Cinco De Mayo. When you live in California, especially Los Angeles, Cinco De Mayo is a big deal. It's like being Irish on St. Patrick's Day. Everyone will be drinking margaritas and eating chips and salsa. I made these easy Huevos Rancheros a couple of weekends ago, but I just made just two of them. I knew after I snapped the photos, only Spencer would be up for them. Emma doesn't like eggs, unless I prepare them a certain way, soft scrambled, with a bit of cheese. Well, I was wrong. Both girls wanted to taste them and then picky-egg-girl Emma said, "these are the best eggs I've ever had!" So I whipped up 2 more servings, which both girls devoured. Who knew?
The last time you probably had Huevos Rancheros was on that trip to Baja during college. Too many margaritas the night before? Not that I was spying on you or anything.
They are pretty easy to make. In Mexico, they are poached soft in the salsa, but for a quick breakfast and easy breakfast, just top a fried or poached egg with your favorite salsa, homemade or otherwise, add some chopped green onions, cilantro and sliced avocado or guacamole. Make them as spicy as you want, serve with hot sauce on the side…and as they say, "Bob's your uncle!" I guess in this case it would be, "Roberto es su tio'!"
Enjoy your huevos rancheros!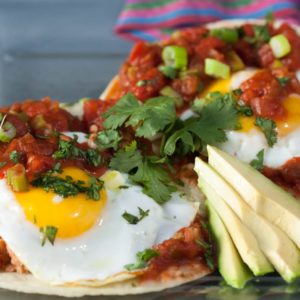 Huevos Rancheros
Huevos Rancheros are an easy breakfast idea
Ingredients
Poached or fried eggs

2 per person

Your favorite salsa about 1/3 cup per egg

Black or refried beans

corn tortillas

2 per person

garnish with avocado slices or guacamole

chopped cilantro, and green onions
Instructions
Poach eggs in water or fry eggs in a little vegetable oil as desired. We like our yolk a little runny for this dish.

Meanwhile, heat salsa in a saucepan until hot. Sometimes I add a can of mild green chilies, but you can also add a minced fresh chili for more bite.

Warm tortillas

Spread some beans on top of each tortilla, place cooked egg on top of tortillas and beans

Top each egg with warm salsa.

Garnish with chopped cilantro and green onions.

Heat up corn tortillas and carefully transfer eggs to tortillas on plate.
Looking for more breakfast and brunch ideas?