These star shaped meringues, "spangled" with fresh berries are the perfect patriotic dessert for the summer.
I like meringues. They were the very first dessert I learned to make in high school. They can be soft and chewy, or delicate and crisp.
They're delicious on their own, paired with ice cream or whipped cream and topped with berries. Since I've made them into the shape of clouds to go with easy Tropical Sorbet, and into hearts for a romantic Valentine dessert, star shaped meringues for patriotic holidays, had to be next! (This post was first published on July 1st, 2015 and has been updated to contain nutritional information. As an Amazon Affiliate, I may earn a small commission on qualifying purchases)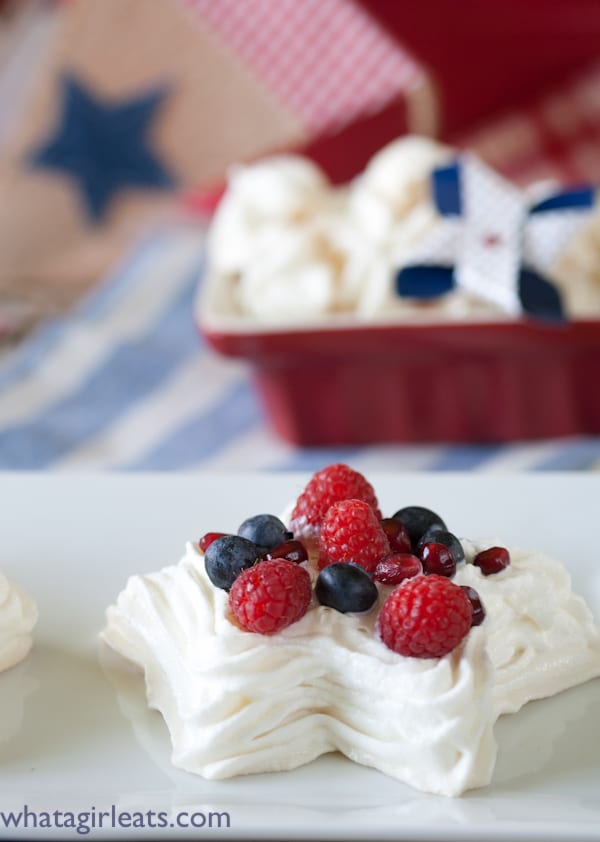 Are Meringues are to make?
Meringues are not very hard to make, they are just egg whites and sugar. A pinch of cream of tartar helps to stabilize the whites. They don't actually bake, so much as they dry out. The key to successful meringues is to make sure there is no grease or any specks of egg yolk in the whites. Make sure that your beaters and bowl are completely clean and dry.
I like to wipe my bowl and beaters with just a bit of white vinegar to ensure there is not leftover grease or fat which will prevent the whites from becoming stiff and glossy. Make sure to rinse the bowl out with warm water to remove any traces of vinegar and dry with a clean towel. Another tip to make sure you don't waste any eggs, is to crack each egg separately and transfer the white to another bowl. That way if a little egg yolk accidentally gets into the white, you can put the egg aside for another use and not ruin the rest of the whites.
Will the weather affect meringues?
Humidity will affect the texture of meringues, but if they do soften, they can easily be put back into the oven at 175 degrees F. to "re-crisp".
Can you make meringues in advance?
Yes! This is the perfect recipe to make in advance, thus cutting down the time you spend in the kitchen. Make them up to 5 days in advance and store them in an air-tight container on the counter. If you live in a humid climate, see above about "resurrecting" meringues.
How to make meringues.
In a clean, dry bowl whip egg whites until light and foamy. When the whites are approaching soft peak stage, gradually add sugar a few teaspoons at a time. Continue beating until they are stiff and shiny. Be careful not to over-beat or they will break. The whites should be thick and glossy, and stand up when the whip is pulled through it.
The stiffness helps the meringue shells keep their shape. Trace the desired shape(s) on a sheet of parchment paper.
Reverse the parchment so that you won't get any pencil residue on your meringues. To keep the parchment from curling, use a dab of the meringue to "glue" the parchment to the baking sheet. Using a pastry bag fitted with a large star-tip, fill in the bottom of the star, smoothing if necessary, to make a bottom that's about 1/4″ thick. Then pipe around the edges, two rows high.
Pipe any left-over meringue into small stars.
How to serve meringues?
Meringues are so versatile. You can eat them on their own. You can put out empty star shells and let guest fill them with their choice of ice cream. Or you can fill the shells with whipped cream or ice cream and fresh berries or fruit.
I hope these star meringues will make an impression at your patriotic holiday party!
Can you make meringues low-carb?
Yes! Substitute the powdered sugar for powdered erythritol like Swerve. Proceede with the recipe in exactly the same way.
Some of the items used in this post are available at my Amazon Affiliate Store.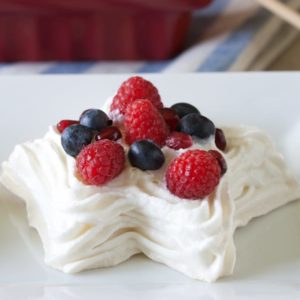 Meringue Shells
Meringue shells perfect for filling. Makes 8-10 star-shaped meringue shells depending on the size of your pattern.
Instructions
Pre-heat oven to 200*, line baking sheets with parchment paper or silpat,

In a clean grease free mixing bowl, whip white on low speed until foamy.

Add salt, cream of tartar and vanilla and continue whipping about 8 minutes or so, the whites should begin to have soft peaks.

Gradually add sugar, a few teaspoons at a time and continue beating until the whites are stiff and shiny, like satin.

Either use a pastry bag to pipe out shapes or drop by tablespoons on prepared sheets.

Bake for about 1½ hours at 200* with oven door slightly ajar.

When they are done, they will be crispy and light and will be easily removed from the cookie sheet. Store in an airtight container. They do not need to be refrigerated.
Nutrition
Serving:
1
g
Calories:
92
kcal
Carbohydrates:
21
g
Protein:
2
g
Fat:
1
g
Sodium:
30
mg
Potassium:
36
mg
Sugar:
21
g
Calcium:
1
mg