Ruby port fig jam is a delicious, savory condiment. It's wonderful spread on toast or scones. Best of all, it's a freezer jam recipe – no canning involved!
I'm definitely not a raw fig lover. I hadn't really thought much about fig anything, until my neighbor made some fig jam several years ago, and served it with brie at our book club meeting. I was one of the best things I'd ever tasted. She had it on a cheeseboard.
My tastebuds have never looked back. I became obsessed with fig jam and brie. All I could think was how good it would taste with just a sliver of prosciutto.
The next day, I went on a search for fig jam. I think I went to 3 stores before I found a jar at a family run urban farm just a few miles from my house. I sandwiched some of that delicious jam in between some brie and prosciutto and added grilled onions; that was absolute perfection! Last year, I was given a small fig tree. I planted it, then forgot about it, until this year, when it started producing figs. I was so excited that I took all 8 of the figs, and made exactly one jar of fig jam. Fig trees grow quickly making them a great addition to your backyard, if you live in the right climate.
Then a friend gave me a large bag of figs, so I had to make a full batch of this ruby port fig jam!
This ruby port fig jam is simple, just cook the sugar and the figs until it sets, then finish it with just a touch of ruby port and lemon juice.
Since I don't trust my canning skills, and the recipe only made 4 jars of jam, this is refrigerator jam. Unless you are a master canner, I would suggest keeping the jam in the fridge.
A jar of this ruby port fig jam with some crackers and cheese would make a lovely hostess gift too!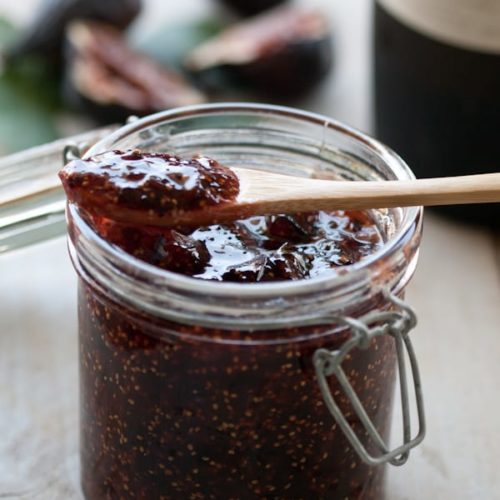 Ruby Port Fig Jam
Recipe from Food Network
Ingredients
1

pound

chopped fresh figs

1 1/2

cups

sugar

1/2

vanilla bean

2

Tablespoons

ruby port

1

Tablespoon

lemon juice

pinch

of salt
Instructions
Bring figs, sugar, the seeds from 1/2 vanilla bean and salt to a boil in a saucepan over medium heat and stir until the sugar melts.

Continue cooking, stirring occasionally, until a drop of the mixture sets on a chilled plate, about 20 minutes.

Remove from the heat. Stir in lemon juice and ruby port.

Fill sterilized jars, leaving a 1/2-inch headspace, then seal and process for 15 minutes.

Jam can also be stored in sterilized jars in the refrigerator for up to 6 months.