Brie with caramelized onions, prosciutto, and fig jam is an easy-to-make appetizer that works well for all occasions, from dinner parties to game day parties!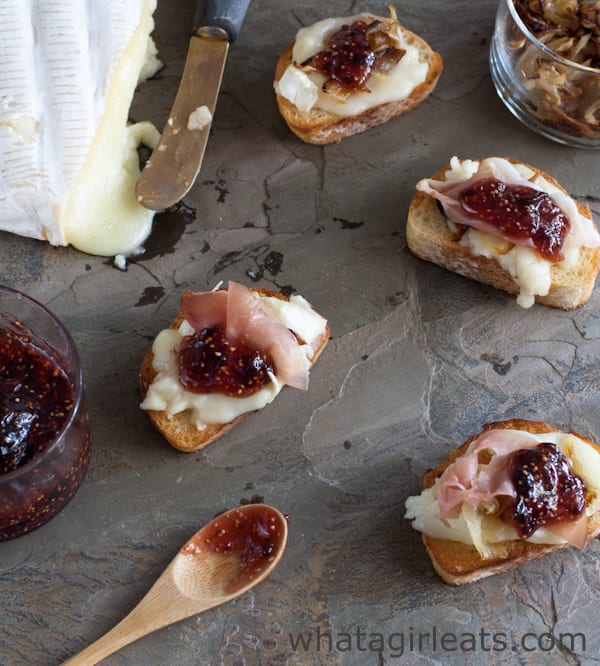 If you recall my Obsession  post from a couple of years ago, I fell in love with my neighbor's homemade fig jam. I spent the entire book club figuring out what else to add to it.
I ended up with what I named the, "Obsession" panini, which was Brie with caramelized onions, prosciutto and fig jam, all in one melty, delicious 'grilled cheese' sandwich.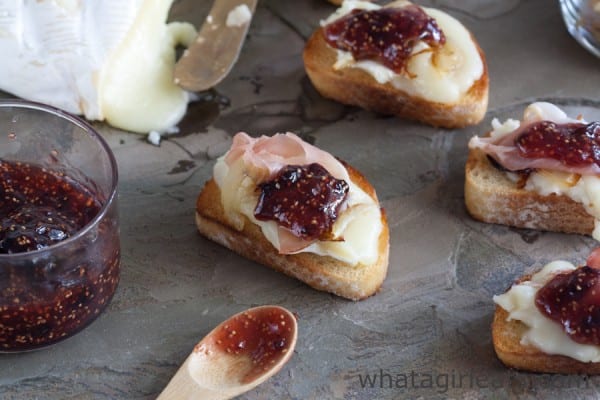 That same idea is in these brie with caramelized onions appetizer bites. 
My neighbor gave me some of her homemade fig and citrus jam a few months ago. Although, now that I have a fig tree of my own, I can make my own Fig Jam. This is a super easy appetizer, just warm the brie so that it's soft and melty, about 10 to 15 minutes, then top with warmed fig jam, thin slices of prosciutto, and caramelized onions. I love the combination of sweet and savory. Serve with fresh fruit, and crackers.
One medium onion, caramelized. Heat oven to 375 degrees F. On a baking sheet, heat brie for 10-15 minutes. It should be soft, but not melted. Serve with fig jam, caramelized onions, prosciutto and crackers or fruit.
If you love caramelized onions like I do, you should check out these recipes, too: