King cake is a traditional New Orleans Mardi Gras dessert. It's a must-have at any Mardi Gras Party!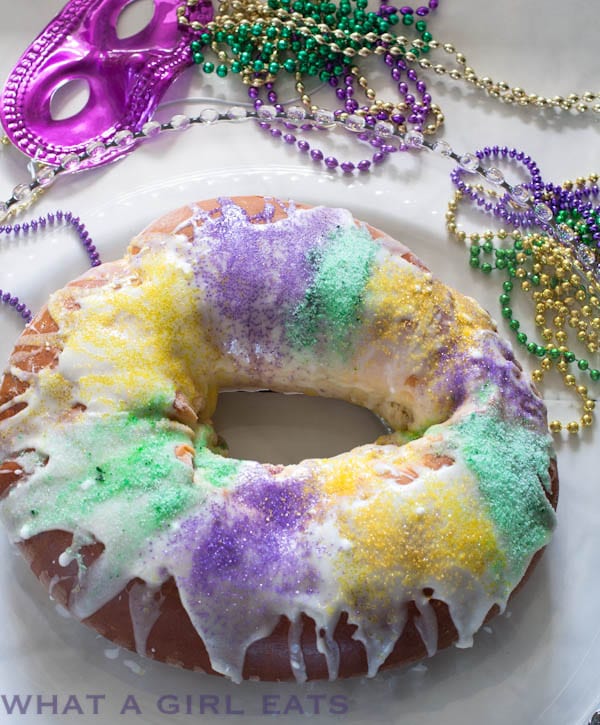 I started making King Cake about 25 years ago. My very Southern girlfriend, Sandy, from Pascagoula, Mississippi, sent me one from a very famous bakery in the New Orleans, once during Mardi Gras. As a Southern California gal,  I had no idea what King Cake was.King Cake is practically nonexistent in Southern California, at least the Southern, Mardi Gras version. There is a Latino version called Tres Reyes which is served on Epiphany in many Hispanic and Latin American communities. (Mardi Gras King Cake was originally published on February 4th, 2014 and has be updated.) (This post contains affiliate links)
What is King Cake?
King Cake is served during the season, from Epiphany, (January 6th) to Fat Tuesday or Mardi Gras. In the south, Mardi Gras is a season, and not just a day, like it is in the rest of the country. In preparation for Lent, many households would rid their pantries of eggs, sugar and butter, thus creating decadent pastries.
Do other cultures celebrate with king cake?
Many other countries celebrate Mardi Gras or Carnivale with similar sweets, like these Italian Bow Tie cookies that are popular in Italy. In England, Shove Tuesday is celebrated with thin pancakes. Of course we know how popular Carnival is in Brazil!
I love the festive King Cake, which is basically a coffee cake ring with colored sugar. It can be filled with anything from cream cheese, (my favorite) to your favorite pie filling. The colored sugar represents Justice, (purple) Faith, (green) and  Power, (gold). Traditionally a small plastic baby, symbolizing the baby Jesus, is tucked into the cooked cake for good luck. The recipient of the baby is responsible for baking the next King Cake.
Once I discovered Artisan Bread in Five Minutes a Day, by Hertzberg and Francois, I adapted their Brioche dough for my King Cake. Yes, it's not as fast as using pre-made refrigerator rolls, but the dough doesn't require much kneading. Make the dough one day and the cake the next.
This king cake recipe makes one large cake , but you could make two smaller ones as well. Laissez les bon temps rouler!
Some of the items used in this post are available here for your convenience at no additional cost to you.

Roll the dough out into a long thin rectangle, about 1/4″ thick.
Spread filling to within 1″ all around. Roll into a long log, lengthwise and form into an oval or circle.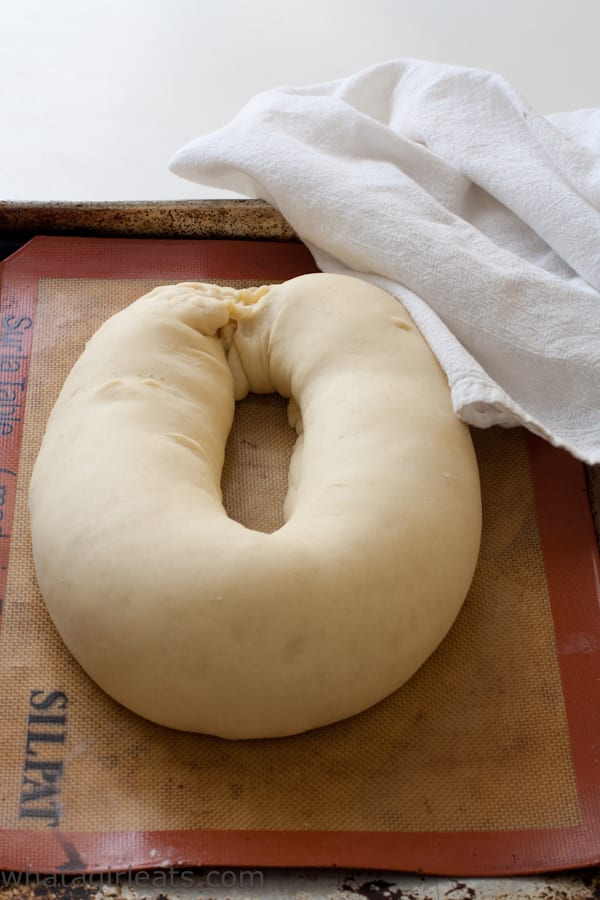 Let cool completely before drizzling the glaze over the top. Sprinkle with alternating bands of gold, green and purple sanding sugar.
King Cake
Egg enriched Brioche dough, slightly adapted from Artisan Bread in Five Minutes a Day, by Jeff Hertzberg and Zoe Francois.
Ingredients
1

cup

whole milk

1

package yeast

2 1/2

teaspoons

kosher salt

2

large eggs

1/4

cup

honey

1/4

cup

butter

3 1/2

cups

all-purpose unbleached flour

Cream Cheese Filling

12

ounces

cream cheese softened

1/3

cup

brown sugar

1/3

cup

white sugar

1

teaspoon

vanilla

1

Tablespoon

cinnamon

Glaze

1 1/4

cup

confectioner's sugar

1

teaspoon

vanilla

1 1/2

Tablespoons

water or milk
Instructions
Scald the milk. Add to standing mixer. The butter should cool the milk enough to activate the yeast, but If you're not sure, test the temperature using a thermometer. It should be between 105 and 110 degrees F. Add butter, honey, salt and yeast. Add eggs and mix until blended.

Add the flour slowly, until dough comes together in a ball.

Place dough in a large bowl and cover. Allow to rest at room temperature until dough rises and collapses, approximately 2 hours.

Meanwhile, make the filling. In a mixer combine cream cheese, sugars, vanilla and cinnamon until combined.

Dough is ready to use at this point, but can also be refrigerated for up to 5 days. Allow the dough to sit at room temperature for about 15 for easier rolling.

On a lightly floured board, roll dough into a long, thin rectangle approximately 12" x 18".

Spread dough with filling up to 1" from sides. Roll dough lengthwise away from you.

Place on a lightly greased baking sheet. Tucking ends under to form an oval. Cover loosely with a clean cloth and let rise in a warm spot until double, about 45 minutes.

Bake at 375 degrees F. for 35-40 minutes, or until deep golden brown. The bottom of the bread will sound hollow when tapped.

For glaze, combine confectioner's sugar, vanilla and water until thick drizzle consistency.

Allow to cool on a wire rack to room temperature. Tuck a small plastic baby into the underside of the cake. Drizzle or spread glaze over the top and sprinkle with alternating bands of colored sugar.