Leek and Potato Soup is one of the most versatile soups ever! Serve it hot with cheese or chilled and it turns into Vichyssoise!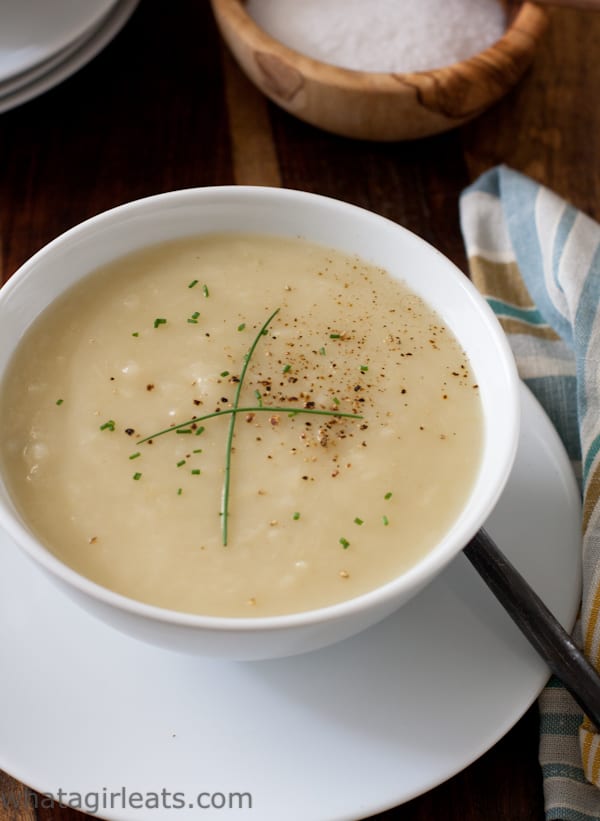 On a recent trip back East several summers ago, my then 16 year old daughter, Emma, got a quick lesson in economics. We ate out three meals a day. Mid-way through the trip, she noticed that some of our "cheap" meals weren't so cheap. (this post contains affiliate links) This post was originally published on September 16th, 2011. The photos have been updated.
"I don't understand it," she said, after we went to an inexpensive sandwich shop in New York City, "Nothing we chose was more than $8, how could it be almost $50?!" She was even more shocked when I told her that the lunch was more than what I spend on groceries for three days at home.
I can't even imagine what the "dining out" budget is for some families who eat out, or do take-out, 2 or 3 days a week!
When Emma was in 6th grade, she participated in "Business Town". Business Town is meant to give kids an idea of what it would be like to run a real business. They had to choose something to bring to sell for an entire week. The "customers" are other students in 5th, 6th, 7th and 8th grades, as well as teachers and staff. Emma decided to bring Leek and Potato Soup, since it's her favorite of all the soups I make. She figured it would be a great thing to sell, because you can eat soup every day, whereas an "object" has a limited buyer's market. Good point. What "we" didn't take into consideration is that "we" would have make the soup every night and "we" would have to transport a large crock-pot, serving bowls, napkins and spoons as well as quarts and quarts of the product every day!
Well, "Emma's" Leek and Potato Soup was indeed very popular, and she sold out every day she brought it. Too bad that the buyers were given fake money to purchase goods, even though the parents had to pay real money to buy real supplies!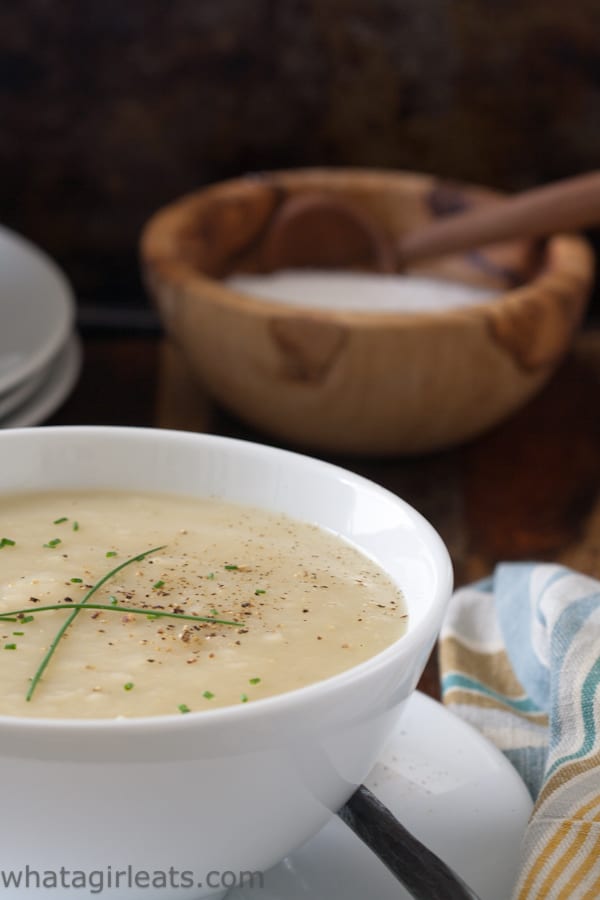 Leek and Potato Soup should really be called the "mother of all soups", because you can turn it in to anything.
Once you've mastered it, you can turn it in to Cream of Broccoli, or cream of (any) vegetable, (what my family affectionately refer to as, "Cream of Refrigerator Soup"). I'm giving you Leek and Potato Soup which you can use as your soup base!
Using Leek and Potato Soup as a Base for Other Soups
So then I take the humble Leek and Potato Soup and turn it into a variety of soups. The idea behind the potatoes, is that they are a natural thickener. You can add cream or milk, but to keep it healthier I almost never use either. I make Corn Chowder by adding some frozen corn at the end and leaving the soup chunky. "Cream of Refrigerator" is made by adding pretty much all the stuff that's looking a little wilted in the fridge!..Celery, spinach, broccoli…Oops! You'll probably never want to eat at my house on "Cream of Refrigerator" soup days. But, hey! What about Baked Potato Soup?
Some of the items used in this post are available here for your convenience, at no additional cost to you.

Leek and Potato Soup
Classic leek and potato soup is the perfect base for other soups.
Ingredients
1

leek

mostly the white part, sliced thinly*( you can see how much of the green I cut off)

5

or 6 potatoes

peeled and chopped

4

Tablespoons

unsalted butter

or olive oil for vegan

2

quarts

chicken broth

or vegetable broth for vegetarian

Kosher salt and pepper
Instructions
In a large sauce pan, heat butter and olive oil over a medium heat. Saute leeks 3 or 4 minutes. Then cover and "sweat". When you "sweat" onions, you are letting them cook and soften, rather than caramelize and brown.

Add the chopped potatoes.

Add chicken broth.

Cover again and cook until the potatoes are soft when you poke a fork into them, about 20 minutes.

Use an immersion blender or puree the soup in batches in a blender. If you use an immersion blender, you'll get a chunkier, more rustic soup. Or puree it in a blender, for a more elegant soup.

If it's too thick, add more chicken broth or some milk or cream.

Season with salt and white pepper.
*The leek is a dirty little bugger! To clean it (One Minute Food Byte video link), you need to slice it vertically,and then really swish it around in water to get all the dirt out from in between the leaves. You can use onions instead, but a leek and an onion, while in the same family, really taste different. A leek is more subtle, not to mention prettier.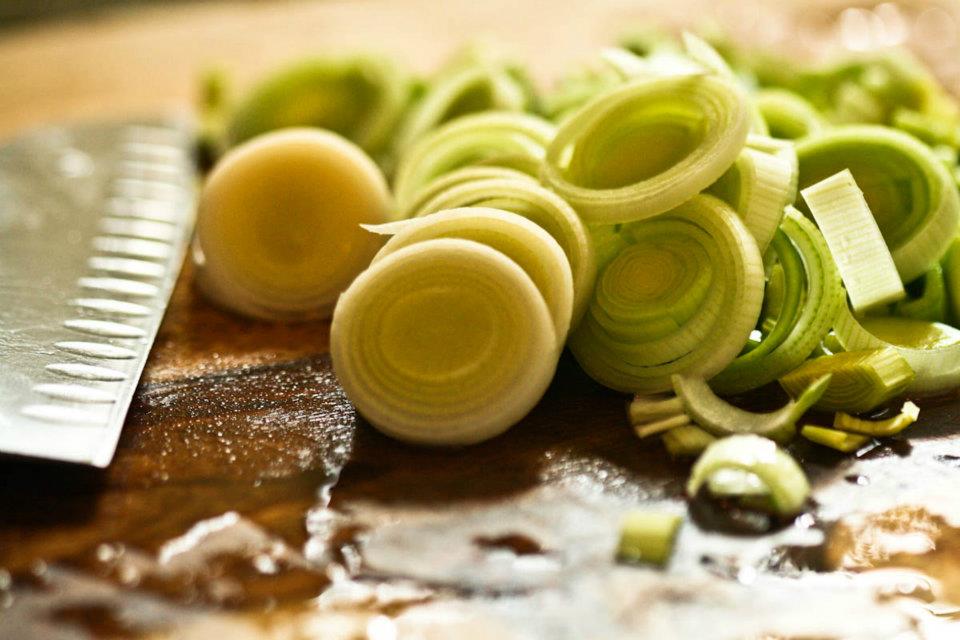 Baked Potato Soup
So, you've got your basic Leek and Potato Soup…use the immersion blender…leave it chunky…add some chopped green onions, some shredded sharp cheddar cheese, some crumbled bacon and a big dollop of sour cream. Looking for more fast and easy soups? How about Chicken Tortilla, Tom Ka Gai or Curried Cauliflower?
In the summer, turn Leek and Potato Soup into Vichyssoise by adding cream and chilling.