Rack of pork is an elegant dinner, perfect for special occasions, but easy enough to make for a special Sunday supper. With a serving of green peppercorn sauce, this meal is absolutely delicious!
For years and years our Christmas dinner was completely, traditionally English. Prime Rib, creamed horseradish, (the straight stuff too) Yorkshire pudding, creamed spinach, mashed potatoes, finished off with an English Trifle. Then one Boxing Day, I decided I didn't think I could eat beef again. (I've since softened on that) My Mom was horrified! Spencer was nervous…I already served so little beef, his Christmas Prime Rib was sacrosanct! There were like…364 days for me to change my mind…but I didn't. Mom, who has never subscribed to the "family hold back" adage, decided to bring in two main courses for Christmas dinner the following year.
Our long standing Christmas dinner guests, Jim, his mom, Camille, Jim's expat Aussie friend, Fiona and a few other family members would be expecting the "usual". So Mom came up with a second Scandanavian Christmas menu featuring Roast Rack of Pork with Green Peppercorn Sauce, homemade spiced apples, and a delicious Braised Purple Cabbage. No, we're not Scandinavian!
The Rack of Pork ended up beating the Prime Rib out by nose. I'm generally disappointed with pork loin because it's been bred and trimmed to be so lean, it's lost a lot of its flavor.
Rack of pork has a nice layer of fat on top, keeping it moist.
You can remove it after roasting if you're so inclined. I choose not to "French" the bones, which means scraping them to make them look pretty. This recipe comes from Ina Garten, The Barefoot Contessa.
Here's the rack of pork recipe.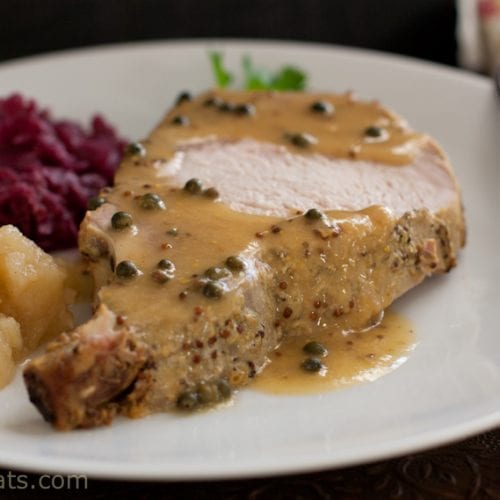 Rack Of Pork With Green Peppercorn Sauce
Roast rack of pork with green peppercorn sauce, from Emeril Lagasse.
Ingredients
1

rack of pork

bone in, (about 5-7 lbs).

2

tablespoons

good olive oil

4

teaspoons

Dijon mustard

divided

4

teaspoons

whole grain mustard

divided

1

teaspoon

ground fennel seed

Freshly ground black pepper

3

tablespoons

flour

1

cup

good white wine

3

cups

chicken stock

1/4

cup

green peppercorns in brine

drained
Instructions
Preheat oven to 400 degrees F. Allow the pork to come to room temperature for 30 minutes. Place the pork, fat side up in a roasting pan just large enough to hold it comfortably.

In a small bowl, whisk together the olive oil, 2 teaspoons of each mustard, the ground fennel, 2 teaspoons salt and 1/2 teaspoons black pepper. Rub the mixture on top of the pork and roast for 1 to 1 1/4 hours, until the internal temperature reaches 140 degrees F.

Remove from the oven and transfer to a cutting board and cover tightly with foil for 20 minutes, while you make the sauce.

For the sauce, remove all but 1/4 fat from the roasting pan. If there isn't 1/4 cup, add enough butter to the pan to make 1/4 cup total. Over medium heat, whisk the flour into the fat and cook for 1 minute. Add the wine and scrape up all the brown bits from the bottom of the pan. Add the chicken stock, remaining 2 teaspoons of each mustard, the green peppercorns, 2 teaspoons salt and 1/2 teaspoons black pepper. Bring to a boil, then lower the heat to a simmer for 5 to 10 minutes, until the sauce is reduced and slightly thickened.

Serves 8 generous portions. I served it with mashed or roasted potatoes and homemade applesauce. I'll share the delicious purple cabbage recipe in an upcoming post.
Serve the rack of pork with a side of homemade applesauce.
Easy Applesauce
Use a combination of apples for flavor and texture.
Ingredients
4

large apples

Pink Lady, Braeburn, Golden delicious, sliced

1/2

teaspoon

cinnamon

2

Tablespoons

water
Instructions
Combine apples, cinnamon and water in a large saucepan. Cook until tender.

Slightly mash some of the apples to leave some texture.