These Meringue Hearts with Whipped Cream and Raspberries, are perfect for your sweetheart on Valentine's Day. Light, airy and crisp, filled with lightly sweetened whipped cream and some fresh raspberries, they are an extra special dessert.
These heart-shaped meringues are similar to a Pavlova, the national dessert of New Zealand. Usually a Pavlova is made as one large meringue, filled with whipped cream, fresh berries and kiwis, (especially in New Zealand!). While this is not necessarily a complicated recipe, it does require a few important steps.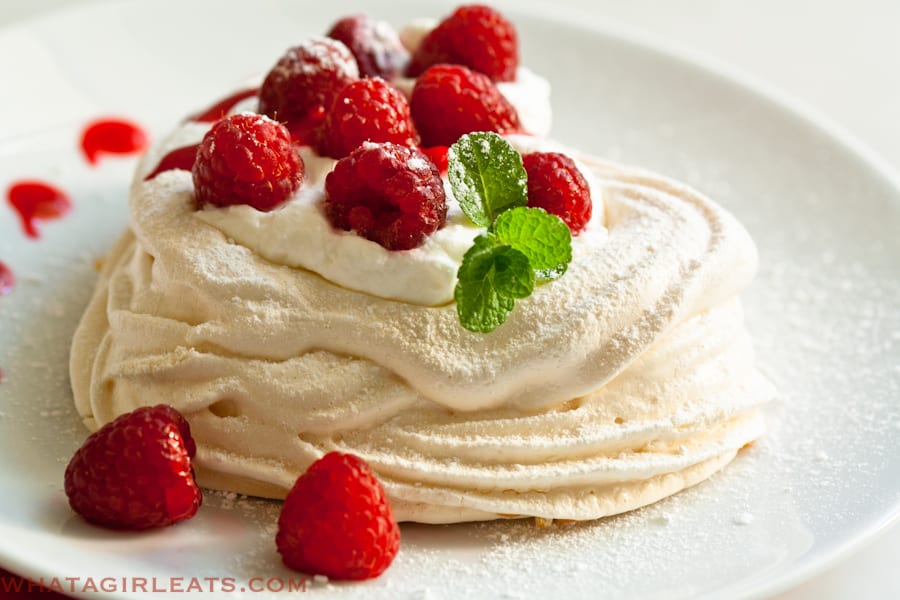 When whipping egg whites, you must make sure that the yolks don't break when separating. The bowl and beater that are used to whip the whites must be free of grease. I always wipe the inside of my bowl with white vinegar, then rinse with warm water. Trace a heart shape on a piece of parchment paper, using a cookie cutter. Pipe around, and then fill in the bottom.
Carefully pipe 2 or 3 more layers of meringue, building up the sides.
Bake in a slow oven, about 200 degrees F. for 1 1/2 hours. While the meringues are baking, whip the cream and puree the frozen raspberries for the raspberry sauce, or "coulis" (fancy French term for berry sauce). To assemble, fill each shell with whipped cream and fresh berries. Serve raspberry sauce on the side or drizzle on top.
Meringue Hearts with Whipped Cream and Raspberries
Meringue Hearts with Whipped Cream and Raspberries and Raspberry Sauce. Makes 3-4 heart shaped shells, depending on the size of the heart. The heart pictured was about 3 1/2" by 4"
Ingredients
3

egg whites

bring to room temperature for best results.

1

cup

confectioner's sugar

pinch

of salt

pinch

of cream of tartar

1/4

teaspoon

vanilla

1

pint

fresh raspberries

1

cup

whipping cream

2

Tablespoons

sugar

1

cup

frozen berries

defrosted
Instructions
To make the meringue shells, pre-heat oven to 200*, line baking sheets with parchment paper or silpat, (silicone baking sheet).

In a clean, grease-free mixing bowl, whip whites on low speed until foamy.

Add salt, cream of tartar and vanilla, and continue whipping about 8 minutes or so, the whites should begin to have soft peaks.

Gradually add sugar, a few teaspoons at a time and continue beating until the whites are stiff and shiny like satin.

Either use a pastry bag to pipe out heart shell, or drop by tablespoons on prepared sheets.

Bake for about 1½ hours at 200* with oven door slightly ajar.

When they are done, they will be crispy and light and will be easily removed from the cookie sheet.

While the shells are baking, whip cream and sugar in stand mixer, or by hand with a whisk, until soft peaks form.

For the Raspberry Sauce, or "coulis", thaw frozen berries and puree in a food processor or blender until smooth. Add sugar if desired.

To assemble: fill each shell with whipped cream, and fresh berries. Serve raspberry coulis on the side, or drizzle on top.

Dust with powdered sugar
Looking for more special occasion dishes?
Slow-Cooker Cornish Game Hens with Grand Marnier Sauce
Seared Scallops with Saffron Beurre Blanc