There's tuna salad, and then there's Greek Tuna Salad! This classic American sandwich filler gets a decidedly Mediterranean twist with feta, lots of vegetables and fresh basil.
Disclosure: I am a proud ambassador for Genova Seafood. Genova provided me with product for the purposes of this post, in addition to compensation for my time. As always, all opinions expressed in this post are mine.
I'm pretty picky about the seafood I buy. I read labels and pay attention to where it's caught. After a trip to Alaska several years ago, I learned about the best practices for salmon harvesting. I had avoided buying canned tuna after that, for a couple of reasons. One, wasn't sure about the origin of the tuna I was buying. Was it wild-caught? Secondly, I try to avoid canned products with BPA. So when I was contacted by Genova, I didn't even had to check. Right on the label it states "wild-caught". A little extra digging, and I found out that Genova uses cans that are BPA free. What? So awesome! I also liked that Genova tuna is packed in olive oil, in keeping with European traditions for packing tuna.
You can find Genova at your local Kroger stores and use this $1 off coupon
My usual go-to tuna fish recipe is just mayonnaise, a little bit of green onion and celery. For this recipe, I decided to embrace Genova's Mediterranean roots and travel to Greece, adding feta, Greek olives, bell peppers, onions and cucumbers, to mimic the traditional Greek salads I so loved in Greece.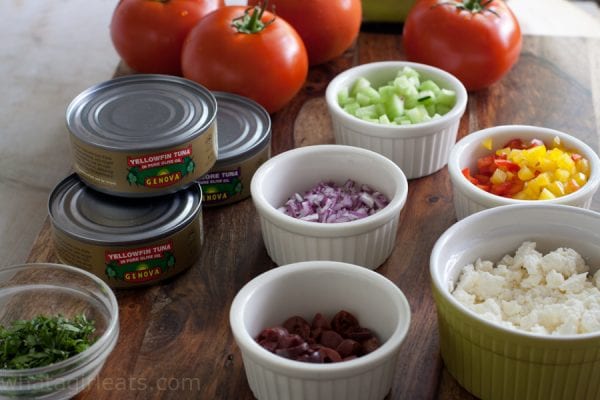 This recipe is perfect any summer get-together. Serve it inside of a hollowed out tomato for an elegant bridal or baby shower, on a bed of lettuce, or in between two slices of bread!
If you like tuna salad and Greek salad, I think you'll like my version of Greek Tuna Salad!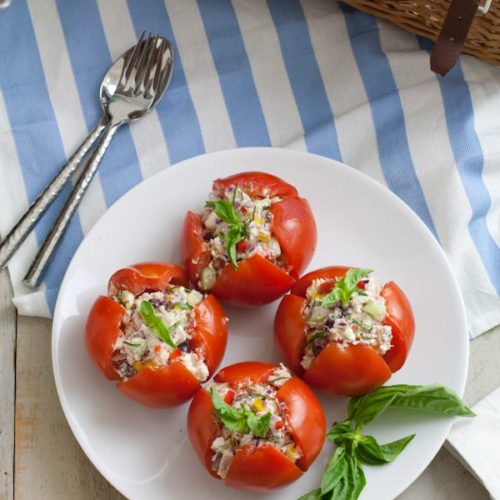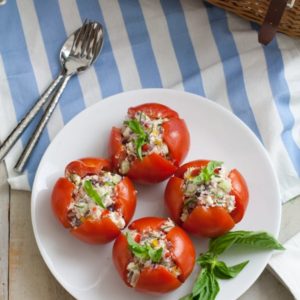 Greek Tuna Salad
This Greek twist on the classic tuna fish sandwich, is filled with lots of Mediterranean vegetables, olives and feta. Serve in a hollowed out tomato, on a bed of lettuce or in a sandwich!
Ingredients
1 6

ounce

can Genova Yellowfin tuna

drained

1/4

cup

peeled

seeded and diced cucumber

1/2

cup

diced bell pepper

1/4

cup

diced purple onion

1

clove

minced garlic

1 1/2

Tablespoons

chopped basil

1/4

cup

Greek olives

1

teaspoon

lemon juice

1/4

cup

Greek yogurt

Fresh pepper and kosher salt to taste
Instructions
Combine tuna with cucumbers, peppers, onions, olives and garlic in a bowl.

Toss with yogurt, lemon juice and basil and season to taste.

Serve in a hollowed out tomato, on a bed of lettuce or in a sandwich.