Why you should slow-roast your turkey this year.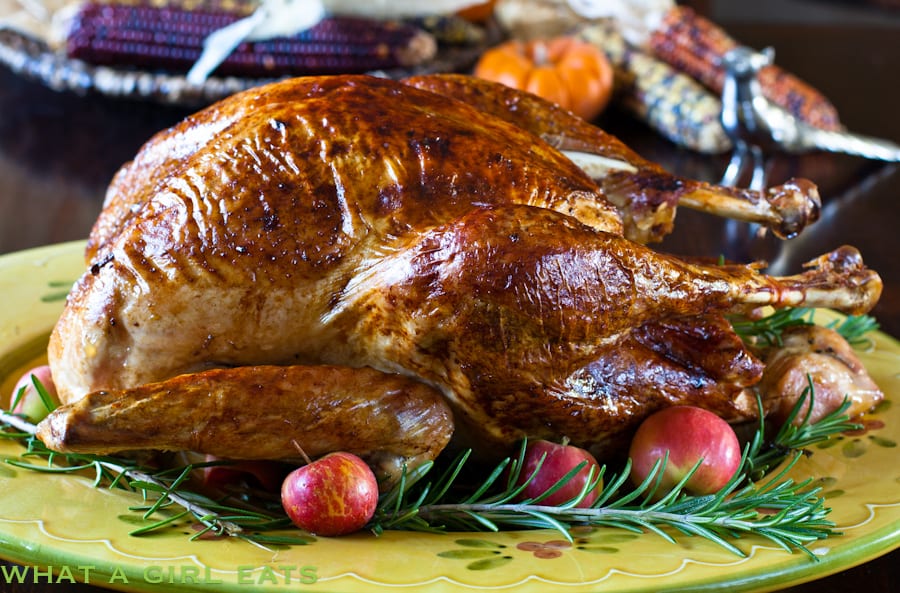 I get it, I work full-time and then when I come home, there's more work! There's homework, laundry, sports, bills, emails…and do I have time to walk the dog? Then there's dinner to think about. That's why I have lots of recipes in my back pocket that take under 30 minutes. Because sometimes I just don't have the time or energy to spend more than an hour preparing a meal. Yep, I totally get it. (This post was originally posted on November 26th, 2014, and has been updated to contain nutritional information. As an Amazon Affiliate, I may earn a small commission on qualifying purchases.)
Why you should slow-roast your turkey!
But what I don't get is why on Thanksgiving, when we should be slowing down, reflecting and appreciating what we have, why, when we should be rejoicing in family time, whether it's cooking with three generations, playing Cribbage with grandpa, or listening to corny jokes for the umpteenth time, WHY would you want to speed up time? I've partnered up with the Water Quality & Health Council to bring awareness about food safety with the campaign #IPlateItSafe
I've seen, this "cook a turkey in under an hour", recipe flying all over the internet, billed as the greatest thing to happen to Thanksgiving since canned cranberries…not! But I just don't get it. Short of an unplanned trip to the emergency room, the whole day is blocked off, just to spend time with people you care about! The turkey is the easiest part of the whole meal. Rub, season, roast. To baste or not to baste, that's entirely your call. We always go to my mom's house for Thanksgiving. Christmas is at ours. Mom is 84 and Thanksgiving is her holiday. She's been baking for days, planning the centerpieces, the menu, and adding guests along the way.
A few weeks before, we have the same conversation. "How many are you expecting mom?" I'll ask her. "Oh, I think we'll keep it small this year…probably just us and a couple more." During subsequent conversations, mom will say, "Well, we're up to 18…there's a friend of mine who had nowhere to go this year…and the man next door just lost his wife…" She cannot bear the thought of anyone being alone during the holidays.
So, every year the guest list changes, ebbs and flows, depending on who might be alone. My daughters, 24 and 19 understand that they will be socializing with 80 year olds, and they've learned, quite well over the years, how to do so.
The day before Thanksgiving my daughters will bake pies with my mom, while I snap photos of three of them, knowing that one day my mom won't be able to teach my daughters how to roll a pie crust anymore.
Far more precious than any other gift my mom has given my girls, are the intangible gifts. The gift of opening ones' heart and home, the gift of sharing ones' knowledge and wisdom, and the gift of time. So why, would one choose to shorten that time?
Food Safety During the Holidays
If nothing else, the one thing I have carried with me since culinary school in the early 80s was food safety and handling. I wash my hands before cooking and frequently during prepping and cooking. Hands should be washed after handling foods like raw eggs, meats or seafood as well as vegetables and fruits. Wash for at least 20 seconds. I always keep my hair in a pony tail, even when I'm cooking for my own family. Because no one wants a stray hair in their food even if it is your mom's! I also always wear a chef's half apron like this one and tuck a clean towel in my waistband. That towel is for drying my clean hands and I never use it on dishes or a counter.
Defrosting the turkey
I think this might be one of the biggest problems around the holidays. People seem to underestimate the amount of time needed to defrost their bird. Then when it comes time to roast the bird, they realize it's still half frozen and then try to "speed thaw" it. I allow about 1 day (24 hours) for every 5 pounds. I usually add an extra day for good measure. That means a I'll begin defrosting a 15 pound turkey on the Sunday before Thanksgiving.
Cross contamination
Most of us are familiar with cross-contamination. But for the few that are not, cross-contamination occurs when two different food items are placed on the same surface. This is especially true of at thanksgiving when there is a lot of food preparation going on. It's imperative that you have a dedicated cutting board for raw meats and one for vegetables. Either that or thoroughly clean and disinfect the board between uses.
Should you rinse out poultry in your sink?
Do not rinse raw meat or poultry in the kitchen sink! For many years there was debate as to whether you should rinse your turkey or chicken before roasting. This has been proven un-necessary and is not safe as it can spread germs to surrounding surfaces. Even though I do not rinse it, after wrestling the bird around, I always disinfect the sink, counter and any other surfaces the turkey may have come in contact with. I like the kitchen to be clean and sanitized, and then I'm ready to prep the rest of the meal.
What temperature should you roast your turkey?
You can set your oven for 325 or 350. If you're not sure whether your oven is accurate, it's also a good idea to invest in an oven thermometer or have your oven re-calibrated. My oven is off by about 7 degrees, so I take that into account when I'm roasting my turkey.
What temperature should the meat be?
I always use a food thermometer! Looks can be deceiving and your bird could be brown and toasty on the outside and raw near the bone! The internal temperature of turkey should be 165 degrees F when a thermometer inserted into the thickest part of the meat.
To stuff or not to stuff?
When I was growing up we always stuffed our turkey. The juices from the bird mingled with the stuffing and made it extra moist. After cooking school, I couldn't imagine putting cooked stuffing into a raw bird! I haven't roasted a turkey with stuffing for decades. Not only that, it adds time to the roasting process. An un-roasted turkey cooks more quickly unstuffed. There's also no danger of cross-contamination.
Storing the leftovers
While you never want to refrigerate or freeze piping hot food, leftovers should be refrigerated within two hours. Sooner in warmer climates! Make sure you wrap them well or in covered containers. All leftovers should be tossed within 3-4 days. (You'll probably be sick of them by then anyway!)
Roast Turkey
Cooking time varies depending on your oven, the size of the bird. We usually purchase a kosher turkey which is pre-brined, thus eliminating the need to brine. A general rule of thumb for an unstuffed turkey is 15-20 minutes per pound at 325 degrees. How much meat per person? Figure on 1 pound per person, which allows for bones and leftovers.
NUTRITION NOTE: Calculations are for one pound of turkey meat per person. This includes bones. Most portions will be 4 to 6 ounces.
Ingredients
12

pounds

Turkey

4

ounces

Butter

diced

1

Tablespoon

Kosher salt

2

Lemons

cut into wedges

1

bunch

Fresh herbs

rosemary, thyme or oregano
Instructions
Pre-heat oven to 325 degrees F.

Wipe turkey dry and remove giblets. There is no need to rinse! (see information in post)

Carefully separate skin from turkey with your fingers. Slide some butter and salt under the skin of the turkey.

Fill cavity of bird with lemon wedges, herbs and more salt.

Melt remaining butter and pour over bird. Baste turkey every 30 minutes (if desired)

Roast until thermometer inserted in thickest part of thigh registers 165 degrees F.

Remove from oven and tent with foil and allow to rest 20 minutes.
Nutrition
Serving:
1
g
Calories:
529
kcal
Carbohydrates:
2
g
Protein:
70
g
Fat:
26
g
Saturated Fat:
10
g
Cholesterol:
252
mg
Sodium:
1013
mg
Potassium:
773
mg
Fiber:
1
g
Sugar:
1
g
Vitamin A:
817
IU
Vitamin C:
16
mg
Calcium:
49
mg
Iron:
3
mg
Some of the items I used in this post are available here: