Cheesy spinach and mushroom breakfast casserole is easy to make, gluten free, meatless, and delicious for breakfast or brunch!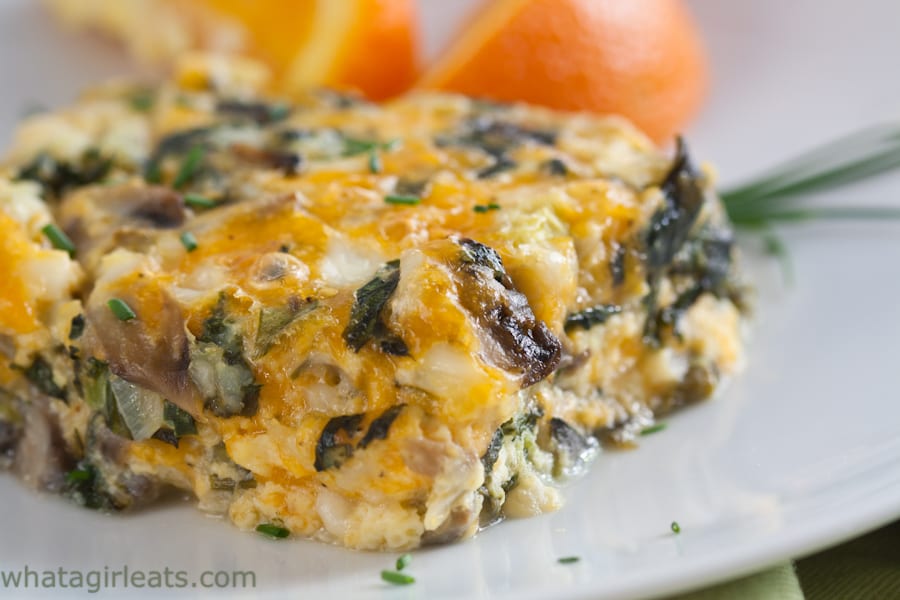 There is no lull between Christmas and New Year's here in Pasadena. Just after we finish unwrapping presents, the city starts gearing up for the big day…January 1st, when we roll out the asphalt and turf for the Rose Parade and Rose Bowl. Because we live spitting distance to the end of the parade route, we usually have friends and/or family staying at the house New Year's Eve. Fortunately for us, our friend and electrician, marks out the same spot on the route beginning sometime after Halloween.
He does this to thank his loyal customers. (Sadly, we seem to purchase old houses with lots of electrical problems!) He spends the night a couple days before the big day…making our job as viewers so easy.
We walk down about an hour before the parade starts, (or ends in our case) and sit right at the curb. BUT, if you come and stay with us, and you're a dad, chances are you might have to spend the night on the route with the kids.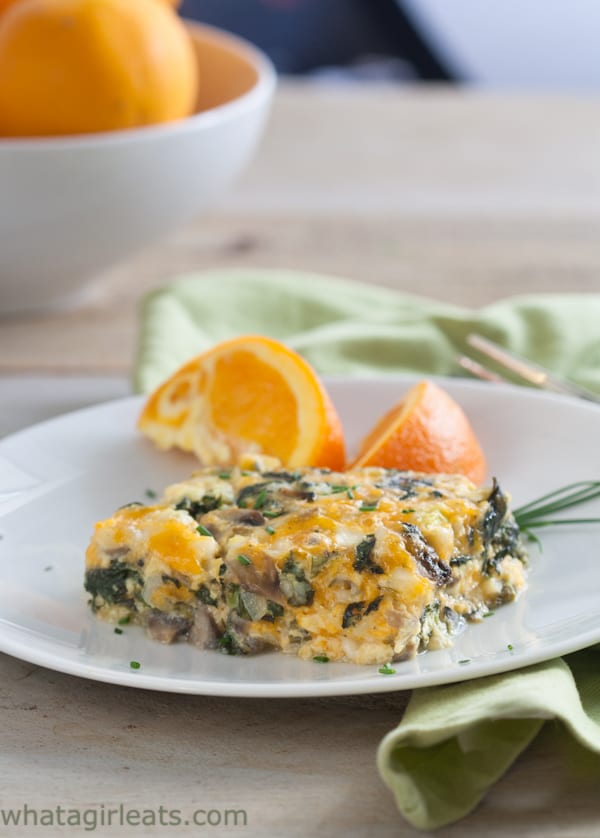 In exchange for the luxury of sleeping in my own warm bed, I forego anything more than a sip or two of champagne at midnight to get up early on New Year's Day, zip down in the car and pick up the excited kids and bleary eyed dads.
I have hot coffee and a hearty breakfast waiting. After a hot shower and a bite to eat, we take the 15 minute walk back to the route to view the parade.
This year, our neighbor and Emma's school mate, Drew Washington, is the Rose Queen, which makes it extra special for us!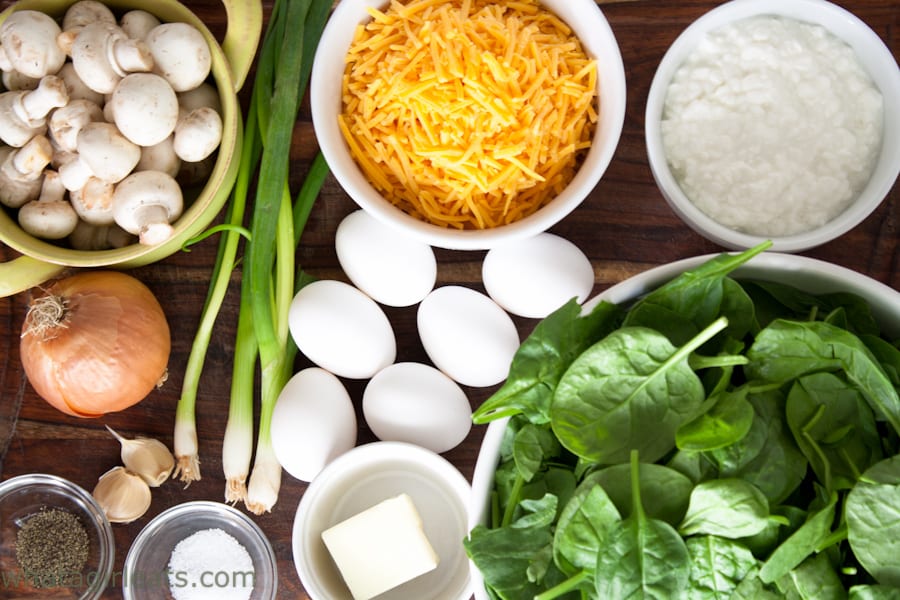 I've been making this spinach and mushroom breakfast casserole for a really long time. I used to make stratas, but found that everybody was a little tired of eating super heavy food, after the holidays, so I looked for a recipe that did not contain bread.
Especially because I like to serve either Pumpkin Cranberry Walnut Bread or Cinnamon Rolls. Oranges from our over-flowing orange tree round out the meal.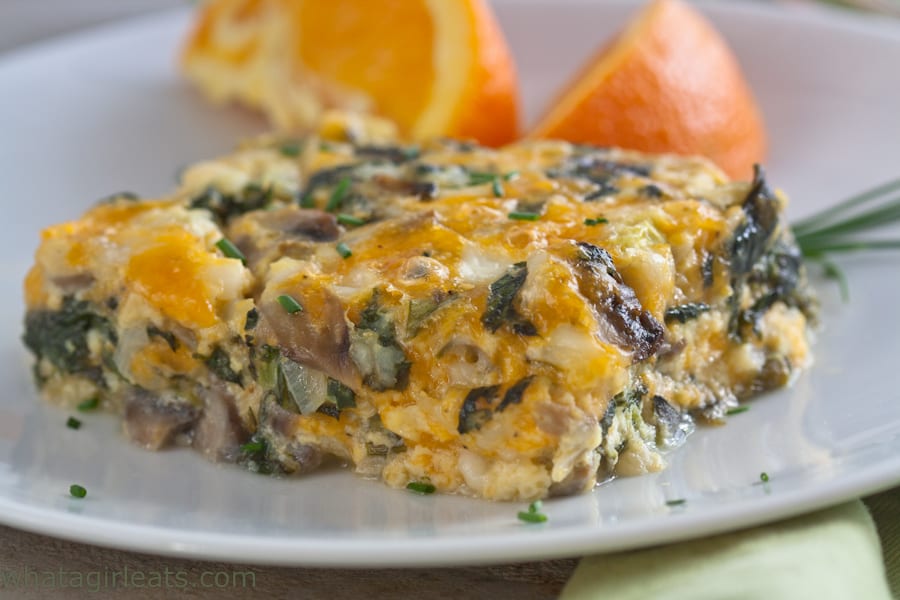 Updated September, 2016, I've updated the recipe, removing the 6 Tablespoons of flour to make it gluten free, and reduced the amount of butter from 1 stick to 5 Tablespoons and reduced the amount of cheese from 1 pound to 12 ounces. These changes have lightened it up, but have not altered the taste!
I hope you enjoy the spinach and mushroom breakfast casserole. Here's the recipe!
Spinach and Mushroom Breakfast Casserole
Gluten free Spinach, Mushroom and Cheese Breakfast Casserole.
Ingredients
12

ounce

bag fresh baby spinach

1/2

lb.

mushrooms

sliced

3

green onions

sliced

1

medium onion

chopped

2

cloves

garlic

minced

6

eggs

beaten

5

Tablespoons

unsalted butter

divided

16

oz.

cottage cheese

12

ounces

sharp cheddar cheese

grated

1

teaspoon

kosher salt

1/2

teaspoon

black pepper
Instructions
Pre-heat oven to 350* F. Use 1 Tablespoon butter to grease 13" X 9" baking dish.

Heat 4 Tablespoons butter in a large skillet or sauté pan, and sauté onions, mushrooms and garlic for 3-4 of minutes until onions are translucent and mushrooms are soft.

Add spinach, a handful at a time, and sauté. Cover skillet and let spinach wilt, about 5 minutes.

Let cool, drain excess liquid, and chop more finely if desired.

In a separate bowl, whisk eggs, cottage cheese, cheddar cheese, and salt and pepper. Add cooked spinach and mushroom mixture.

Mix well and pour into baking dish.

Bake for 45-50 minutes or until top is golden brown and center is done.
Here are some of the items I used in this post. (Affiliate link: I make a small percentage at no cost to you. Thank you for your support to help keep my page running)